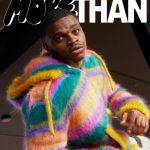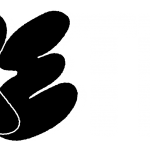 Pierre
Kalulu
"Cool, Calm & Collected"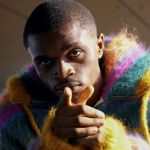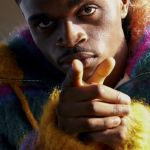 Pierre Kalulu
smiles, Pierre Kalulu smiles a lot. At only 22 years old, the defender of reigning Italian champion
A.C. Milan
has a youthful spirit and a veteran's confidence. Since arriving in Milan, Kalulu has quickly become a favorite of the "Rossoneri" fans, who see in him the class and timing that have characterized the greatest defenders to tread the grass of La Scala del Calcio. It is precisely because of this meeting of elegance and talent that we chose him for the fifth episode of
More Than.
You're right, there is a similarity between my style on the pitch and my style in dressing," was his answer when prompted if this innate elegance he shows every Sunday on the pitch also finds correspondence in the clothes he chooses when he is not wearing his rossonero Milan jersey. "As a rule I always try to be very clean and elegant, only every now and then I try a more extravagant play, outside the box. Every now and then eh, not too much otherwise Mister Pioli gets angry," he
exclaimed
laughing.
For a group as young as the one in A.C Milan manager Stefano Pioli's hands, clothes has become a topic of conversation in the locker room, as a way for the group to bond. "Fashion is an element that unites us because we are a group that likes to joke around, although the team always remains first (laughs ed.)." Compared to his teammates however, Kalulu has a very personal view of his own style and steers far from the dominant trends. "It's true that football players are very focused on certain brands and what is hype at the moment but the more I get into this world the more I realize that these things don't really matter. Style for me has to be original, because a very expensive item can fit you but right now I have other priorities. In general I don't focus too much on brands, it's more a matter of whether or not I like a particular item to buy. Lately I've been very interested in Stussy, Our Legacy and Palace, very different brands that represent my moods well. I like to wear something classic, not slim but more casual to feel comfortable."
And Kalulu always makes it look like he's in his comfort zone, that extends from the penalty box to his free time, where he loves to experiment while staying true to his principles and roots. He moves confidently around the set, poking around and listening to what is going on around him like a consummate veteran who knows how to appreciate even the smallest detail. He plays in front of the photographer's lens, chooses his favorite music during the shoot and exchanges jokes with us in three different languages. "For me these kinds of experiences are always a pleasure, because I am a curious type and when I face new things I am immediately interested in them"- he confesses to us - "if I had not pursued a career as a football player, I would have liked to work in some artistic field, as a musician or as a photographer, I'm not sure in what way but definitely something that constantly stimulates me. I was pretty good at school as well, only I was better at football so I decided to take that path. The other side of the coin of my curiosity is that I change interests very quickly."
Nonetheless, his interest toward fashion is more ingrained and continuous. "It is something that has always interested me, because it belongs to my origins, but perhaps I was not yet aware of it. My parents came to France from the Congo, which is a country extremely well known for the attention they pay to clothing, you can see that people spend time and money on how they are dressed. Even my mother when I was a child was constantly telling me, 'Be careful with this, be careful with that,' and when you're little you still don't pay attention," he told me proudly. "But it's true that when you grow up it's something that stays with you, and now it's natural for me to pay attention to how I dress and go outside. That's why maybe in the morning it takes me a little longer to get ready, so I have to wake up earlier to get to Milanello on time."
"I feel very little pressure. In my opinion the real tension, the one that locks your belly, you have to feel as soon as you enter the pitch, not before."
Now that he has been in Italy for a year, Kalulu is also finally able to enjoy the city in all its nuances. "Now that I've discovered more about the city I really like it, there are many things to see but it's not too big. It's a little old for me (laughs) but it's really beautiful, everything is there, it's like a European capital." But above all, Milan is the capital of fashion, in what cannot be a mere coincidence given Kalulu's growing interest: "Since I've been in Milan I try to be more and more inserted in this world and create my own circles of reference." However, it is difficult to meet him at any social events, which he deems too noisy for his calm personality. Instead, he is more likely to be hidden by the darkness of a movie theater, his other great passion of his. "When I was still in France I loved going to the movies, I was there once a week or more. Now that I'm in Italy it's a bit more difficult and I've become more of a homebody, but I never miss my favorite TV series." These include Game of Thrones, also the spin-off House of The Dragon, and Vikings "costume series that tell great stories. I like it when there is great attention to detail and picture quality as if it were a film product." Arriving as an almost unknown, Kalulu has become one of the rossoneri's team most recognizable faces. As we were shooting on the terrace, a fan saw him at the window and started singing a chorus dedicated to the Rossoneri number 20, while Kalulu smiled awkwardly. In Milan his life has changed drastically, launched into the starting squad that brought the Scudetto back to the Rossoneri half to the tune of clean sheets. "To have arrived and win the Scudetto right away was a great joy. We're all young in the team and we don't realize it, because when you start doing something and succeed right away you feel like that thing is super easy, but it's not." But Kalulu has this rare gift of making everything simple, polished and shiny. Like when he accompanies an opposing attacker before intervening with his light, snappy levers, or when accelerates in progression with the ball at his feet with his head held high, reminiscent of his illustrious predecessors in a Rossoneri jersey. "When you are a defender you have to like dirty work and risk as little as possible but every now and then attempting something more with the ball gives you a feeling of joy, however, then if you succeed you are too strong and if you fail you are too poor," he says immediately spreading his lips wide in what you may have guessed by now is a trademark.
His impact with Italian football so far has been very smooth, thanks in part to his personality that perfectly disguises his ripe-age of twenty-two years old. "I feel very little pressure. In my opinion the real tension, the one that locks your belly, you have to feel as soon as you enter the pitch, not before. For example, we play on Sunday at 8:45 p.m. (at San Siro against Napoli ed.), if it's not 8:35 p.m. I still don't feel anything, then I get the right feelings and enter the match atmosphere," he reveals to me, confirming what we had guessed about his self-confidence and his firm self-control. Of course, there remain the difficulties associated with such a selective league and very peculiar style but "when you're my age maybe you don't always realize it. At the same time you are already an example for a lot of people, a source of joy when you are on the pitch." The lucidity with which Kalulu approaches his life and career is impressive, and his calmness paired with his warm smile puts anyone in front of him at ease. Even the last answer he gave me before saying goodbye belongs to someone who demonstrates a wisdom that goes beyond the years on his ID card, as if he were an alien who landed in our country by chance with a game jersey on. "Football in Italy is very important for the fans, so it's right to give your best for them. Maybe when you are Italian and always live in Italy for you it is a normal thing, but if you go abroad you understand how it is a very strong passion."
Talent: Pierre Kalulu
Photographer: Jon Bronxl
Photographers BTS: Zacharie Bizimana and Phillipe Alexandre Aka-Adjo
Stylists: Alessandro Benvenuti and Landryble
MUA: Cristina Bonetti
Photographer Assistant: Andrea Ariano
Light Assistant: Sofia Quilici
Interview: Lorenzo Bottini
Production: nss factory