What's happening with Cazoo?
The British company is pulling out of Europe, putting all its sponsorships at risk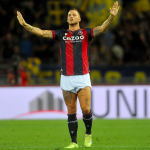 If there is one company that in recent years has seen football as a perfect channel for expansion and investment, it is certainly Cazoo. In the last three years alone, the English company has reached agreements with Marseille, Valencia, Freiburg and Bologna, as well as several deals in England, but according to the latest rumours Cazoo is ready to put an end to its sponsorship agreements with football clubs. The motivation is purely economic, the sponsor of Bologna has planned to withdraw from the European market, in order to concentrate all its forces on the United Kingdom. A market choice that could therefore have repercussions on sponsorship, as one of the crucial points in the statement is that the company will work with its (sports) partners to bring these relationships to an orderly end.
'Following a review of a number of strategic options, management has concluded that the right course of action is for Cazoo to now focus exclusively on its core opportunity in the UK, a huge addressable market with approximately 8 million used car transactions and a value of over £100 billion per annum,' the company's note reads.
At the moment, they say, there is no case pending, the company has paid all instalments on time and there is nothing to suggest that Cazoo will withdraw. Therefore, there will not be a dispute like the one involving Inter and DigitalBeats at the beginning of the year, with the latter failing to pay the Milanese team some payments on time.