There is only one Italian stadium among the 20 most expensive built in Europe since 2000
Allianz Stadium is the only facility to rival those built in the other five major continental leagues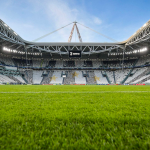 Every statistic regarding stadiums in Europe points out in an increasingly merciless way the gap between investments in our country compared to other continental leagues, and this latest research carried out by Tifosy on the twenty new stadiums built since the beginning of the new millennium confirms this trend. In fact, among the most expensive built in the five major European leagues, Premier League, Ligue 1, La Liga, Serie A and Bundesliga, only one has been built in Italy, the Allianz Stadium in Turin, the new home of Juventus that replaced the historic Delle Alpi. Built in 2011 at a total cost of 155 million, it can seat up to 41,507 spectators for a price of 3,734 euros per seat made.
But in the list of the most expensive investments it comes only in 11th place, a long way from the top positions that belong - without much surprise - to the Premier League. In fact, the most expensive stadium built in the past two decades belongs to
Tottenham Hotspur
, who spent more than a billion dollars (1.1 Bl) on their new arena that replaced the iconic
White Hart Lane
, while on the other side of London
Arsenal
shelled out almost half a billion euros (457,000 mln) to build the
Emirates Stadium.
In between the two was
Olympique Lyonnais
, which spent €480 million in 2016 to build the
Parc Olympique Lyonnais
.
And Ligue 1 is perhaps the surprise among the leagues noted for the highest investment in sports facilities, as in addition to Olympique, Lille, Nice, and Bordeaux are also on the right side of this special ranking. But lesser-rated clubs such as Le Mans, Le Havre, Grenoble and Valenciennes have also decided in the past decade to build new stadiums for their fans, spending figures ranging from 102 to 75 million. Similarly, even in the Bundesliga, smaller teams such as Dusseldorf, Borussia Monchengladbach and Rot-Weiss Essen - in addition to the top clubs Bayern Munich and Schalke 04 - have had no problem spending large sums.


This is a stark difference with our league, in which new stadiums are very rare and even more so is investment, waiting for the new projects of Milan, Inter and Roma, expected like water in the desert, not to run out in the usual mirage that Serie A has accustomed us to in the new millennium of dilapidated facilities and lack of ambition.