Zegna will be fashion partner of Real Madrid
"Every king needs a tailor"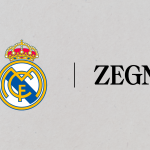 The fashion partner market for Europe's top clubs has become truly vast, ranging from Italian and English tailoring excellences to the world's most recognised streetwear brands. After the rumours surrounding Milan and Off White, today Zegna and Real Madrid have announced a unique partnership that sees the Italian brand become the new Official Luxury Travelwear Partner of the Spanish club. The collaboration will be launched during the 2022/2023 season, where the top football and basketball teams will wear an exclusive Zegna wardrobe. The collaboration will consist of both more formal looks and luxury leisurewear items that will be unveiled during the first Champions League match of the 2022/2023 season.
The partnership will be celebrated in Madrid on 30th September with an exclusive event that will unveil the wardrobe worn by the players. Available in selected Zegna boutiques around the world, the made-to-measure garments resulting from the collaboration combine the historical values of the two brands with Zegna's contemporary aesthetic and its focus on luxury craftsmanship.
The history of Zegna and Real Madrid began almost simultaneously in the early 20th century. On the one hand Real Madrid, founded in 1902, and on the other the Italian brand, founded in 1910, have achieved and obtained great recognition in over a century: for Zegna in the textile and luxury menswear industry and for Real Madrid on the field. But it is the shared values that unite the two companies: the idea that excellence only comes from hard work, the conviction that it is necessary to share and give back to the community, the will to take one's history and transform it into energy to conquer new territories.