The strange ban on Serie B highlights circumvented by Venezia
All published exclusively in black and white, Venezia FC Classics is your next favourite account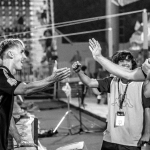 The further step - so much acclaimed by the league - to spread the Serie B via the internet around the world and be even closer to its fans has not exactly pleased the teams, and in particular Venezia, which in order to challenge this particular ban has created a very unusual profile. About ten days ago in fact, Serie B formalised an agreement with AdPlay, a new platform capable of distributing league highlights, prohibiting teams from publishing any video highlights before, during or after matches. In fact, all Serie B teams cannot share the goals, plays and highlights of what is expected to be one of the most exciting and competitive championships of recent years before eight days.
"In the terms of the two-year agreement, for the 2022/2023 and 2023/2024 sports seasons, there is also the management and broadcasting of the highlights through Lega B's main social channels - including Youtube, TikTok and others -, by the Milan-based media holding. The highlights will be available for viewing starting three hours after the end of the individual matches - or after 11.30 p.m. for matches scheduled to start after 3 p.m. - and for the following eight days."
A decision - as reiterated - that the teams had a hard time digesting and Venezia did not sit on its hands, first complaining about the absurd decision via twitter and then finding a ploy to publish the much-contested highlights. It is called Venezia FC Classics and we warn you right now: it can undoubtedly become your next favourite account. Clearly, given the stringent regulations it is not known whether it will have a long life or not, but given its excellent tones of voices and its strange black and white patina we hope this moment will come later than ever. Making a joke of the whole situation, Venezia FC decided to treat the highlights of eight days ago as vintage throwbacks, hence the patina and the peculiar captioning.
THROWBACK: The year was 2022, and Venezia were hosting Genoa in the opening round of the 2022/23 season.

Both clubs had been relegated from Serie A the previous season and were keen to signal their intent to return, but the Ligurians would prevail on Kelvin Yeboah's late winner. pic.twitter.com/c5rqzMJCU4

— Venezia FC Classics (@VeneziaClassics) August 22, 2022
It is clear that each league is free to decide how and when to distribute all its content, but seeing the choices of the other federations, Serie B's choice seems questionable to say the least. Again in Italy, in fact, in Serie A teams are free to post any videos and highlights concerning the match a few hours after playing the match. The same happens in England and Spain, where highlights are not subject to any temporary constraints, thus leaving clubs free in the management of their communication.