Carlsberg's special Liverpool cans
The longest sponsorship deal in Premier League history turns 30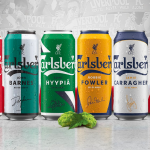 When one thinks of Liverpool and sponsors, the most immediate association is with Carlsberg: the Danish beer, still the club's sponsor today, signed the longest sponsorship contract in Premier League history with Klopp's club, remaining on the Reds' shirts for 18 years until it came to an end. A very close relationship between the Merseyside club and the Danish company, so much so that several years ago the brewery produced a beer entirely dedicated to the Reds and made from a special red hop plant to give the drink the distinctive colour of the English team. Now to celebrate its 30th anniversary, the Danish brand has created six special cans featuring the most iconic jerseys with the names of famous footballers such as: Ian Rush, John Barnes, Sami Hyypïa, Robbie Fowler, Jamie Carragher and Luis Garcia.
"We are extremely proud to be celebrating 30 years as partners of Liverpool FC. This partnership is deeply rooted in a shared set of values and goes way beyond a regular sponsorship. To share a journey for 30 years, through the ups and downs, is truly special and what better way to celebrate this by sharing something unique with the fans."
In sporting culture, that between football and beer has always been a strong pairing that needs little explanation. In England, and on the British island in general, a draft beer at the pub outside the stadium is a sacred tradition, almost a religion for fans who are initiated by their parents into the brewing doctrine from an early age. So the one between Liverpool and Carlsberg - beyond time - could only be an iconic collaboration.