Bologna's Dall'Ara will be renovated by 2026
The structure built in 1927 will be completely overhauled
Everything is ready and official, the Dall'Ara in Bologna will be completely overhauled and by 2026 will be transformed into a modern and functional stadium that will 'live' seven days a week. This was confirmed by the city's mayor himself, who began his speech to the microphones as follows: "It is a resolution that allows us to make a single tender and a single procedure. From now on, Bologna Fc 1909 will be able to deliver us the final project of the temporary stadium that we will build in the municipal area next to Fico, the food theme park. It will be an accessible area that will actually be able to see the light within six months from when we start the tender for the works."
The Dall'Ara Stadium, once renovated, will be able to accommodate around 27,000 spectators and will host not only functions strictly related to the sporting event (dressing rooms, media area, hospitality) but also tertiary and recreational uses. All the stands will be very close to the pitch, creating a 'stadium within a stadium'. The existing curves will be replaced with new stands with a steel structure and prefabricated tiers. The spaces between the perimeter wall and the new bleachers will be used for recreational activities that will be functional and independent even during match-day. The new West and Distinti stands will instead be built as an 'overlay' to the existing ones.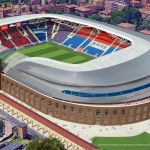 At a time when even football needs investments and strategies in order to restart, this project represents an important initiative to deliver to the club and the city a modern and functional infrastructure for the current needs of the public and commercial partners. While waiting, however, for the Dall'Ara to be renovated, Bologna will build a temporary stadium, which will be available for the spring and women's team upon completion. A temporary stadium that will cost around 11 million and will initially have a seating capacity of 16 thousand, which will then be reduced to 3 thousand once the new Dall'Ara is completed.