The new Fiorentina's jersey by Kappa for the 2022/23 season
The first with the new diamond-shaped coat of arms that also inspired the geometries of the kit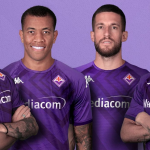 Fiorentina and Kappa today unveiled the new jerseys that will accompany the Viola on the pitch during the upcoming season. In fact, the Kappa Kombat Pro 2023, in Home and Away versions, and the goalkeeper kit were revealed, with a design inspired by the club's rebranding that enhances the new geometric lines.


In the Home kit, concentric squares radiate from the chest, i.e., the club's new logo, in alternating shades of purple so as to evoke the heartbeats and passion of those who wear and support the purple jersey. The white-dominated Away kit features the large V of I Viola, a brand new element introduced in the Club's new crest as a tribute to the color and community, which by definition identifies and characterizes Fiorentina around the world. The two goalkeeper kits, in yellow and red with purple details, feature on the front of the jersey, at waist level, the new lily composed of the words of the Club's manifesto.


On all jerseys is on the collar, outer side, the words Play to be different, which is the claim of the launch campaign of the Viola team and emphasizes the uniqueness of Fiorentina's history and at the same time the importance of accepting diversity in all its nuances, even on the soccer field. On all jerseys, on the inner side of the collar, there are instead 13 lilies: a tribute to the 12th man and to Davide Astori, the unforgettable captain who wore precisely the number 13 in Florence. On a technical level, the Kappa Kombat Pro 2023 is further refined in its ultralight fabrics and Nylon stretch seams to ensure maximum comfort and elasticity. Hydroway Protection Technology ensures high breathability and effective release of body heat.