The never-ending licensing dispute between eFootball and FIFA
EA Sports and Konami officially kicked off their parallel football market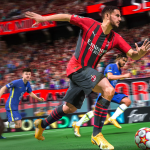 While teams are busy rebuilding and replenishing their rosters in view of the upcoming season that will be played in a little over a month, the famous football video games are also looking for the perfect coup. These days, Konami and EA Sports are formalising and reconfirming their partnerships, kicking off a licensing war that reaches its peak every year at this time. In the common imagination FIFA has always been the more mainstream game, with a wider spread, official licences and more accessible gameplay. PES - which since last year has been renamed eFootball in its Fortnite-style free-to-play version - has instead positioned itself as a hipster alternative on the market, managing between 2006 and 2012 to eat into FIFA's market share. Part of eFootball's appeal has always been its somewhat cheap, borderline fake aesthetic, the apotheosis of which were the fake names and logos of teams whose commercial rights they did not own.
While the licensing dispute in some countries is already settled, in Italy it still seems completely open. In recent weeks, the two game companies are doing everything they can to secure as many teams as possible. If FIFA managed to get Juventus back, which had been missing from EA Sports' game for more than four years, Konami on the other hand has managed to win Monza, a true rising star of Serie A that is currently surprising everyone with its market shots. Konami, however, after last year's partial failure, has tried to go a step further than its well-known competitors. As of this season, in fact, eFootball will not only acquire the licences, but has also purchased the naming rights to the training grounds of Napoli and AC Milan as well as appearing on the Training Kits of the two aforementioned clubs.
FIFA, which as of 2024 will change its name to EA Sports FC, has not stood idly by and in addition to securing the rights to the entire Serie B, has pulled off a historic coup. FIFA 23 will mark the debut of the women's league, which until now had never been present in any football video game. A battle that doesn't seem destined to end just yet, according to various rumours, EA Sports is determined to grab both Lazio and Roma, the two teams from the capital that have been linked to eFootball for several years, kicking off yet another contest.