"Fashion comes and goes, but sport lasts forever," interview with J. Michael Prince of U.S. Polo Assn.
On the occasion of the new Spring-Summer 2023 collection at Pitti Immagine Uomo, we discover the new perspectives of a historic brand
Polo has always been a sport linked to its lifestyle dimension, having given its name to one of the most widely used garments in men's fashion but not only. The Polo jersey precisely, which remains a timeless classic for anyone who loves a sporty lifestyle without, however, renouncing a casual but recognizable elegance. But the typical U.S. college sport is not only polo jerseys, but possesses a very deep heritage that breathes the most authentic and traditional America. We talked about it with J. Michael Prince, president and CEO of U.S. Polo Assn., the brand licensee for the United States Polo Association (USPA), the federation that has run the sport since 1890. Building on its 100-year history, now U.S. Polo Assn. is expanding its vision by introducing necessary concepts such as sustainability and inclusiveness in its new Spring-Summer 2023 collection presented at Pitti Immagine Uomo.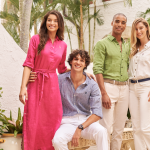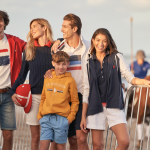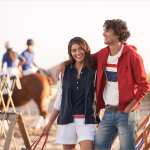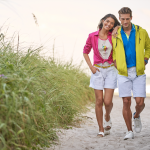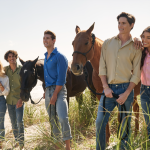 U.S. Polo Assn. is the official brand of the United States Polo association, a non profit organization dedicated to the sport of Polo. How did this link between fashion and sport come about?
So the sport was founded in the 1890, so well above 120 years ago. And it's one of the oldest governing bodies in the USA, the only one oldest being baseball, So it's been around a long long time so has a lot of history. The sport need a revenue source to help found the operations, so it started the brand and what's been great about this brand is that people looks for real connection and being the official brand of the sport there's no other closer to and does more for the sport than what we do, not only in the US but in the world. And so what I'd like to see about the brand is that it's sport inspired and we're inspired on the field and off the field. And if you look at the collection, it's shirts, it's sport athleisure, so it has a connection to the sport for us. I also want to say that fashion comes and goes, but sports last forever. And the younger generations love the connection, the authenticity to it.
The new USPA Sport collection has been described as the new frontier of contemporary sportswear, how do you combine sports and everyday wear?
So what is unique about the collection is that we have four different capsules, the heritage collection, the red, white and blue. And the heritage collection you'll see in all the lines across the world is always our best performer. And then we have our collection, just for Italy, lots of colors, beautifully nuanced and we have our USPA Life collection, which is our sustainability collection, so 40% of the product has to have at least 40% of sustainable features. And the USPA Sport which is more athleisure, joggers, hoodies, but if you look at all our products they all encompass the sport of Polo. Polo shirts are our number 1 seller, representing 40% of our business around the world, so you'll always see that incorporated with the double horseman, which is how the sport plays, also with the Number 3, the Polo Captain, so you'll always have that connection to sports.
Given your past experiences, what goes and values prompted you to start this adventure with U.S. Polo Assn.?
I worked as a Chief of Financial Operation at Converse and Nike, and what I've learned working with brands is that you feel a passion for the brand. And when I saw this brand for the first time, I didn't know the brand that well, I wasn't familiar with the brand and as I studied the brand I said wow this is the official brand for the sport of Polo. And Polo is played in Colleges, and played by young kids, and played by women, and played by LGBTQ+ community, it's played all over the world and it is a way to promote the sport generating money to get back to the sport and promote this beautiful sport and sports lifestyle brand. And so for me it was a great connection and I've always loved sports, I like fashion but I've always loved the sports brand for the connection to me as I've played sports as a young student and adult.


Now sportswear and casual wear have made inroads in an increasing transversal market, what are your firsts goals for the future?
It's important to stay true to your DNA so the first thing you'll notice in our branding and in our social media and our advertising in the magazines is this connection back to sport. Whether it is horses with the polo shirt or the polo fields, so that will always stay true and then our goal for our brand globally is to continue to be around sustainability more. We are at the beginning, we have a long way to go but we have started USPA Life, our partners are starting to work on more sustainable products and structured on an ecosystem rather than having everybody working on their own. And I think for younger generations that's important, as we are talking about Treedom (a sustainability organization n.d.r.), the idea of giving back by planting trees in Africa that produce fruits someone can also eat or cleaning the oceans from plastic it's also important as well. So growing the brand, sports inspirations, giving back to the sport of Polo and giving back to philanthropic causes.
How classical styles and innovative textile fabrics define the brand identity?
You know, the classical styles are timeless, when I look at the Polo shirt it's a timeless shirt that lasts forever and stands the test of time. What we've done with it we said ok, maybe it has some sustainable features maybe has some performance features. So always having a new lens on what the future looks like and in the United States we have an innovation center, where we come up with ideas and test products and decide what is going to be new and what is going to be interesting. That's really cool because you can change and shift the future of fashion while being true to your sports DNA.