Real Madrid has created its own social network
It is called Real Madrid Virtual World and will allow fans of the blancos from all over the world to interact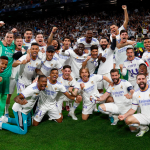 Real Madrid continues its innovation process with a totally unexpected project that goes against the trend of other clubs. The newly crowned Spanish champion club has built a real social network with the help of Astosch Technology, where all Real fans around the world can interact. The social is already available is called Real Madrid Virtual World, and can be downloaded for free in all online stores. A platform designed not only to bring together and interact with the blancos from all over the world, but also to allow all the fans to take a virtual tour of the museum where all the cups won in the 120 years of history and inside the Santiago Bernabeu are displayed. Within the app, each user will be able to create their own avatar and dress it with the adidas jerseys worn over the years by the club's greatest champions. Furthermore, language barriers will not be a problem, Real has thought of everything, within the chat rooms there will be a voice and text translator.
It is a different way to build fan loyalty and keep them close despite the fact that for obvious reasons it is logistically and physically impossible to do so. In fact,
Real Madrid's
is not an app like those of other teams, where only results, statistics and exclusive content are uploaded, but it is a sort of virtual world, almost a
metaverse
to stay in the theme, where every fan will be immersed in the tradition and history of the club. An initiative that will allow Real to get even closer to its fans and continue on the path of loyalty undertaken by all clubs with the intention of becoming more and more of a brand.