The first football match in the metaverse
A record for Serie A, the first league in the world to broadcast one of its matches in the metaverse
The Lega Serie A surprisingly announced a new and exciting milestone this weekend, becoming the first football league to broadcast a match on the metaverse. On the occasion of the important match Milan - Fiorentina, exclusively in the MENA area (Middle East and North Africa), it was possible to watch the match inside the Lega Serie A room in The Nemesis metaverse. After releasing the first NFT a few months ago, Lega Serie A will once again be a pioneer aware of the fact that technological innovations now pave the way for revolutionary broadcasting possibilities with a view to reaching and involving more and more fans around the world, not just in Italy.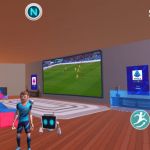 We chose to be the first to broadcast a football match in the metaverse because we believe that the frontier of technological innovation is crucial for a modern league like Serie A," said Lega Serie A CEO Luigi De Siervo. "The Middle East and North Africa (MENA) are a strategic area for us due to the dominant presence of Generation Z and their particular receptivity to innovation."
Milan and Fiorentina were therefore the first two teams to face each other in a match on the metaverse, where users were able to interact with the various features in the room during the game. Not only Serie A, but also Manchester City, a few months ago, expressed the will to build a stadium in the metaverse, a sign of how clubs are betting a lot on the virtual and parallel world that Mark Zuckerberg has announced he wants to build as soon as possible.