FIFA has decided to sanction the Russian national team
Even the IOC did not stand idly by with sanctions to isolate Russia even in sport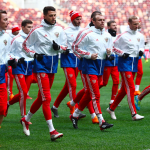 After the political and economic sanctions, FIFA and the IOC also took action yesterday by reiterating their condemnation of Russia's use of force in Ukraine. FIFA called for "the urgent restoration of peace and the immediate start of a constructive dialogue. FIFA remains in close contact with the Ukrainian Football Federation and members of the Ukrainian football community who have asked for support to leave the country as long as the current conflict persists." In addition to this, the world football governing body has decided that in view of the upcoming matches the Russian national team will play under the name "Football Union of Russia (RFU)" and furthermore no flag will be displayed and the anthem will not be sung either.
IOC Executive Board urges all International Federations to relocate or cancel their sports events currently planned in Russia or Belarushttps://t.co/w3zJFhiWpc

— IOC MEDIA (@iocmedia) February 25, 2022
The IOC, on the other hand, which three years ago sanctioned Russia together with Wada, the World Anti-Doping Agency, for state doping, banning it from all major sporting events, has asked all international sports federations to cancel their scheduled events in Russia and Belarus. At the moment these are the sanctions taken at the sporting level, but from the communiqué issued by FIFA in recent days and given that nations such as Poland have refused to play against the Russian national team the sanctions may not be over. In the statement, FIFA made it clear that: "FIFA will continue its ongoing dialogue with the IOC, UEFA and other sporting organisations to determine any additional measures or sanctions, including a potential exclusion from competitions, that will be applied in the near future if the situation does not improve quickly. The Bureau of the FIFA Council looks forward to taking one of these decisions."