Partido a partido, a journey through Diego Simeone's life and style
Amazon Prime documentary chronicles Cholo's life and obsessions, starting with his all-black outfits
Amazon Prime Video's documentary tells Diego Simeone's life directly from his home, with a symmetry between the past and present of the Atletico Madrid coach. High hedges and trees surround a beautiful, well-kept garden, with a not-too-large swimming pool, a soccer field and a house in the middle. On two floors, very modern, of those with zero impact, entirely white except for the wood of the entrances. Wide interiors, huge sofas. On one of the windows overlooking his neighbors - probably one of the houses of other stars such as Gareth Bale and Cristiano Ronaldo, all living in the barrio Pozuelo de Alarcon, the Beverly Hills of Madrid - Diego Simeone sips a mate. Then he enters, goes down the stairs and opens a closet room, very large and with two windows that regulate the natural light. The clothes are divided by type and colors: blue shirts, white shirts, black shirts, black jackets, loafers. It's not an old money space, Simeon is not the type to wear pastel tones and Clarks. But you can tell that fashion is not an accessory for him.
The documentary "Partido a partido", 6 episodes released last week, borrows its title from his autobiography and reveals how much his style is determined by his life and character, not by fashions. This is clear, for example, from the chromatic leitmotif of black: Simeon wears it not because of any particular style trend, but for superstition. His own teammates, who speak in full detail during the episodes, confess: "Cholo wears it as a superstition, he is a very superstitious person, even as a player. But the aesthetic rules of anti-superstition do not go beyond a wardrobe supplied above all by classic selections, and the documentary confirms his persistent choice of black shirts and chinos, sweatshirts or turtlenecks for his free time outings and merino wool chokers for family gatherings. But if black is everywhere, perhaps it is no longer just superstition but a definite personal passion. Maybe that's also why in November he wore a Prada nylon coat in a Champions League match against Liverpool at Anfield Road.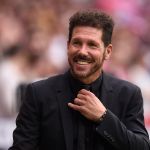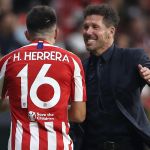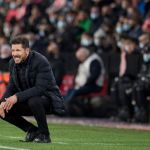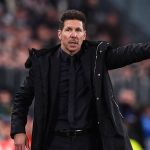 Aside from the sorties to the disco with funky nineties shirts, or oversized T-shirts and a generally sporty look, whether Nike shorts to stay on the couch or total leisurewear in nineties style, black is always the color that constantly accompanies his stage presence. Archive images selected by director Javier Jiménez Vaquerizo reveal that black has accompanied him since his days at Racing and Independiente, his early coaching experiences. When, after his first dismissal in a Buenos Aires hotel, he told the new Racing owners "today I'm going to leave and become a great coach. When you want me, you won't have the money to pay me". Ipse dixit, that's exactly what happened.
When Simeone tells these anecdotes, seated and interviewed in his home in a format now standard for sports documentaries, whether they concern the recent past or his youth, he is always relaxed, loose in a blue shirt. His biography is told in parallel. On the one hand, the events of the 2020-21 season, the one in La Liga won with masks, empty stadiums, and Suarez's decisive goal against Osasuna; on the other, his past. His premature beginnings in Argentina, his arrival at Pisa, his love for Atletico, his Italian glories with Inter and Lazio, his career as a coach with a large space dedicated to his best period, the two-year period 2012-14 with the victories of 4 national and international trophies. And equally symmetrically, the man is explained, both as a winning sportsman and as a controversial figure. It is not so much for the huevos of Atletico Madrid-Juventus that we all remember; as much as the violence on the field that he had as a player and that he transported into his tactical weltanschauung.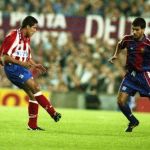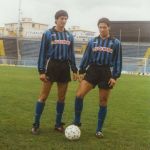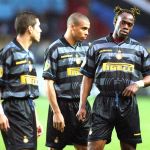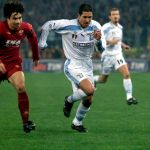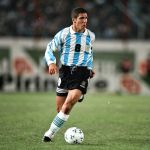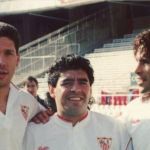 As his teammates explain, Simeone would galvanize himself in the fight, in the battle, and couldn't wait for a fight to arise. Episodes such as the cleats on Julen Guerrero's thigh, the punch to Redondo, the protest with a policeman who threw a baton at him on the field - in Seville, not in Argentina - were born. Simeone today tells - with a bitter smile, almost embarrassed, but intimately amused - how those episodes belonged only to the field, to the cancha, and all the fights and beatings did not leave the playing field, remaining confined there. But as the documentary shows, the Cholo cannot take his sporting spirit out of life. Which is not the beatings, but the "sì se crede e se trabaja, se puede", the "partido a partido". The Simeon who picks up his kids from school and faces the days talks about coming together, teaming up, giving it his all. A perpetual team building - it's no coincidence that years ago Il Sole 24 Ore wrote about "cholismo in azienda" - in which every member of the family has a role. It may seem heavy, excessive, but deep down everyone seems happy.
He talks to his children gathered around a table, drinking mate, staging a circle time in Perfect Strangers style in which he analyzes father-son relationships and compares them as in a locker room. His wife, Carla Pereyra, is the only one to manage to keep him in check. In her nail and chinos - mucho latina - she explains that she and the Cholo are a team and that they work together for their daughters' future. You can't take Simeone out of soccer, nor soccer out of Simeone's life.