Ferrari's new logo to celebrate its 75th anniversary
A special logo, dedicated to all the people who have contributed to the history of the brand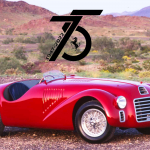 In 1947, as post-war Europe began its long journey back to economic prosperity, all signs pointed to an inevitable surge in the mass car market. But while manufacturers were racing to build huge factories capable of mass-producing vehicles, Enzo Ferrari decided to follow a different dream. The small factory he opened in Maranello that year was not intended to produce cars in large quantities, in fact, its founder had only one car in mind, the 125 S, designed not for everyday commuting, but to win races. This was not just a car, but for Enzo Ferrari it was more of a manifesto for innovation, a design that even then underlined Ferrari's sporting ambitions and laid the foundations for a long history of victories on and off the track. 75 years after the creation of that model that gave life to a unique story of passion, success and innovation, Ferrari has unveiled its new logo in a video created to thank all the fans and people who have contributed daily to making Ferrari more than just a brand.
The logo explains Ferrari Chairman John Elkann: 'It is a symbol of the Ferrari spirit that is shared both here in Maranello and by our entire family around the world. It reflects the essence of who we are, of our 75 years and of our future.
As Enzo Ferrari once said: 'Ferrari is above all made of people'. That's why in the film, the logo comes to life through a mosaic of faces, the perfect way to thank the people who make the carmaker successful. A special logo for a year that will be just as special: in 2022 Ferrari has many surprises in store, some already unveiled such as the first luxury SUV and others yet to be discovered.