Borussia Dortmund will never change again its name, logo and colours
In a meeting on Sunday, the German leadership drew up a code of values
On Sunday, Borussia Dortmund approved the introduction of a very special code, which has never before been adopted by any other club in the world. The management and all the top management at the meeting adopted a code of values, which states that the club's name, colours and logo will never be changed. Furthermore, BVB confirms the absolute and priority participation in the national competition and Dortmund as the venue for all BVB home games, the commitment to the 50+1 rule and finally to keep ticket prices at a socially acceptable cost. The code has already been approved with only one vote against and will now be legally drafted.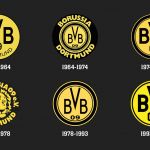 A choice that goes clearly against the trend with what has been done so far by most European clubs and not only that in recent years has updated its graphic identity. In 2017, Juventus definitively abandoned the visual imagery linked to the world of football in order to move closer to the logo of a large company similar to Apple or Nike with a real distinctive sign. Inter were the last to modernise and lighten their crest, while Paris Saint Germain in 2013 set aside some of the historical symbols to move to a more elegant and clean logo where only the word "Paris" stands out.
The Borussia crest has undergone very few changes over the decades, but whichever way you look at it, it is always current. The last change was made in 1993 when the club decided to remove some of the rings from the circle and to adopt a stronger yellow. The other issue related to the club's absolute and priority participation in the national competition arose because of the SuperLeague, a competition that no German club has ever joined. The last choice, in which the club commits itself to maintain socially acceptable prices, is a response to the recent protests by fans, not only those of Borussia, about the high prices in the Champions League, a discontent manifested over the years with various banners around the world. With this code Borussia Dortmund chooses to keep its tradition and identity intact, getting closer and closer to its people and its audience.