The new Gucci sneakers inspired by a football boot
The Ultrapace R mid-top is very reminiscent of adidas Primeknit FS
Gucci has just launched its new sneaker model: the R mid-top has been added to the Ultrapace line, a version that overturns the design of the previous shoes, giving it a decidedly futuristic twist. The inspiration behind the brand's latest work directed by Alessandro Michele could be football boots, both chromatically (available in fluorescent green and total black) and stylistically. The Ultrapace R mid-top, in fact, seems to have many details present in the most modern football boots: from the absence of laces to the very high collar of the shoe, up to the design present on the upper. In short, a nice mix between the adidas Predator, the Nike Magista and the latest Furon 6+ and Tekela v3 produced by New Balance.
But there is one model that seems to have inspired the creators of the mid-top R more than any other: the adidas Primeknit FS, created in 2014 and launched on the market in 2015. A shoe that remains in history - even if its success was poor - for being the first all-in-one hybrid shoe, with an upper created by combining knitwear (experimented on the Samba Primeknit) and leather (specifically that of the adizero F50 Crazylight).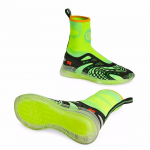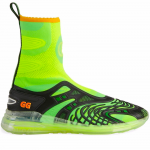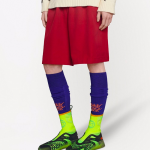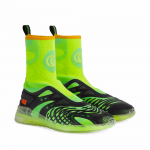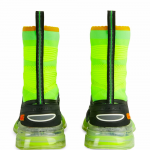 The innovative silhouette that emerged from the Herzogenaurach workshops six years ago may have been the reference that inspired Gucci's designers. This is not the first time that major fashion brands have taken football models on the catwalk or drawn inspiration from them: the last in chronological order was Burberry which, in its FW21 men's collection designed by Riccardo Tisci, showed shoes from the "Escapes" line which seem to be inspired by the shape and design of the adidas Predator worn over the years by David Beckham, Zinedine Zidane and Alessandro Del Piero.
Over the last ten years, football has influenced fashion so much and has been a significant protagonist of fashion shows. The evolution of this trend - which began with football shirt design - is gradually shifting the focus to other football items such as boots, which are increasingly being taken up. There are many examples: from Miu Miu's SS21 to Demna Gvasalia's FW20 with Balenciaga, arriving within two years at Gucci with the new Ultrapace R mid-top. If before we wondered whether football boots could be the latest fashion inspiration, now it's almost a certainty.