Il nuovo kit del Bayern Monaco per l'Oktoberfest
Ritorna dopo 8 anni una maglia dedicata al festival più popolare in Germania
After playing and winning last night's big match at Camp Nou, this morning Bayern Munich and adidas presented the new kit dedicated to Germany's most popular festival held over the last two weekends in September and the first weekend in October: Oktoberfest. Although this year, for the second year in a row due to the pandemic, the event will not take place, Oktoberfest is part of the Bavarian way of life and is firmly rooted in the heart of every German and has been created to further enhance the link between the club, the city and its traditions. The shirt has been designed in a simple dark green while the logo, sleeve inserts, three shoulder stripes and sponsors stand out in gold. The highlight is undoubtedly the traditional Bavarian details, such as the laurel wreath on the logo and the typical Oktoberfest edelweiss on the back. If you are already crazy about this fourth kit, we have some unfortunate news for you: Bayern Munich will only wear it once for the next Bundesliga match on 18 September 2021 against VfL Bochum at the Allianz Arena.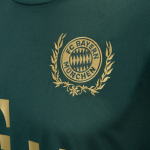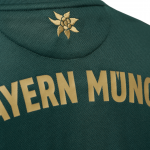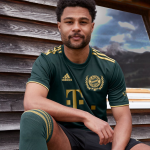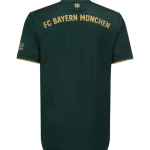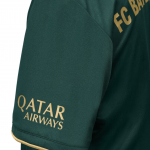 It is not the first time that adidas and Bayern Munich have decided to dedicate a shirt to the Oktoberfest, in 2013 it was the turn of Schweinsteiger, Javi Martinez and Diego Contento to present the new uniform immersed in the classic games of the festival. That season, too, adidas created a very simple shirt in white with a checkered texture printed on the fabric and shorts inspired by the famous lederhosen, the indestructible leather trousers that come with braces. After eight years adidas and Bayern Munich have once again chosen to dedicate a new kit to show what Oktoberfest and the German champions are known for globally: openness, sociability, joie de vivre and a sense of tradition.
The new shirt will be available from tomorrow on the Bayern Munich website.