Paris Saint-Germain 2021-22 third kit by Nike
Inspired by the design of a myth from the beginning of the millennium
Nike and Paris Saint-Germain have launched the third kit of the 2021-22 season and, as always, a new lifestyle collection inspired by the colours of the new jersey. The decision to go against the trend of the first two kits (red-blue and white-pink) and opt for two dark shades stems from the idea that stars often wear black. The extraordinary talent of a never-before-built roster is considered exactly like an all-star team and, as Eazy-E often reminded us in the early days of the NWA, all-stars wear black. The design is very simple, with a horizontal band in the middle of the jersey and the PSG logo - in black and red shades - immediately above it. The Swoosh, however, is relegated to a double logo on both sleeves and does not appear on the front of the uniform.
The reference that the Nike and PSG designers have used is a great classic from the past: the "alternative" jersey used by the Parisians from 1999 to 2001 - the period when Jay-Jay Okocha, Nicolas Anelka, Mauricio Pochettino and Mikel Arteta were professing football under the Eiffel Tower.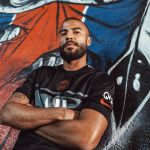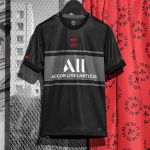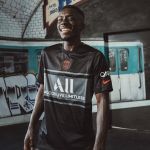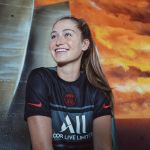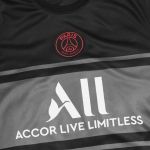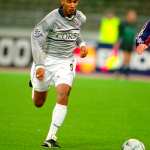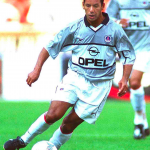 The jersey that inspired Nike and PSG is part of a return to the past operation forced on them by the Rouge & Bleu fans who, on more than one occasion, have shown how important the aesthetic tradition of Paris is culturally and how it should not be completely overturned. The lifestyle collection, on the other hand, is inspired by the symbols of Paris and the city's districts, taking its cue from the different postcodes of the arrondissements. The PSG video features all the big names from the French club, from Messi to Neymar and Mbappè.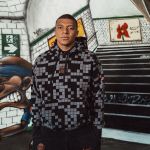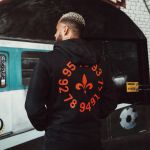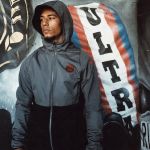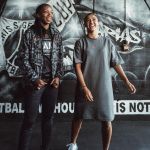 The third Paris Saint-Germain kit is available to Nike and PSG members from 13 September in Paris Saint-Germain shops, on nike.com & PSG.fr and in retail from 17 September.