Mizuno to be Bochum's new technical sponsor
German club leaves Nike and prepares for Japanese brand's return to European market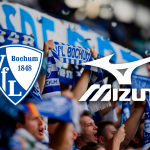 Mizuno's return to top-level football was anticipated a few months ago and the first step comes from the Bundesliga. According to the VFL Magazin, Bochum has decided not to renew its contract with Nike - in force since 2011 and expiring in the summer of 2022 - and bet on the Japanese brand as technical supplier. This is an important step for Mizuno who, by doing so, is relaunching itself in the song that really counts and new sponsorship agreements are not to be excluded. The Osaka-based brand has tied up with Future Performance Sports, the agency that will help Mizuno sign contracts with European clubs and which has already had Umbro and PUMA among its clients. Currently, the presence in Europe is very limited: Mizuno produces the uniforms of Portimonense (Portugal), Cittadella and Südtirol.
In Japan, the sponsorships with Hokkaido Consadole Sapporo and Nagoya Grampus testify to the progress the brand has made in terms of quality and now the time has come to enter the market that counts. The Bundesliga will be the first important test bench, while waiting to see the new contracts that will arrive. Changing your core is not a simple business strategy but requires time, contacts and opportunities. Going from Rivaldo's epic Morelias to a complete supply of a top-level team is risky and requires a very solid structure to be able to meet all the requirements of the top clubs.
Mizuno's (more than) 100-year hipster history has taught us that there is no limit to what can be done and in such a fluid market, where the big brands are strategically leaving club sponsorship, there is plenty of room for manoeuvre. The deal with Bochum is one of those opportunities that Mizuno has been able to seize, freeing a medium-sized club from the "burden" of Nike - the liberating reactions on social media are already viral.