Understanding what a real success is
5 things we learned in the fifth masterclass of The School of New Football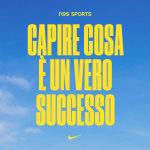 After talking about mental well-being, pressure, defeats and comebacks, the last session of The School of New Football was focused on success and all the nuances of a victory. In the fifth masterclass, Ilaria Grande interviewed Marco Materazzi, Bianca Felicori and Federico Bertacchi (Sotto al 7) to tell about the close encounters with sporting successes of any kind, linked to a single match or to historical goals.
We often hear that success goes far beyond the field and involves much broader emotional components. The forms that a victory can take are infinite and for this reason our guests reminded that it is of fundamental importance to break down the idea that you can only enjoy football when you win, because football is a place full of opportunities to be happy, anyway.
What is a success
"I think you can talk about success when you turn your dream into a job. The gratification in pursuing what you have always wanted is one of the essential parts of success and is the key to understanding and internalizing it fully. It doesn't matter when success comes - I started winning when I was about to quit - but the important thing is to work to get as close to it as possible. Only work and passion make you fully enjoy a victory".
Marco Materazzi

The balance between failure and success
"I believe that small failures are part of success, they are not two alternative concepts. Defeats are part of the wall that is being built to reach the top. Culturally, our society has educated us badly from this point of view, we demonize failure because we are moved by a pride that dominates us. But the defeats must be faced with tranquility and must be the motivation, the fuel to work harder the next day. This dark side can only be fought by eliminating pride, because it is an obstacle to success".
Bianca Felicori

Success as a process
"The best mental training for young people is to get used to thinking that victory belongs to everyone and defeat is an orphan. The boldness in dealing with failure is the weapon that then leads to joy and happiness. Success is a process, not a point of arrival and happiness is central to this path: if you always work happily, success will be bliss directly. And in this process, once you reach the top, the secret is to look forward and never back.".
Marco Materazzi


La chiave per il successo è la felicità
"Sembrerà quasi una cosa inversa, ma credo che l'errore che si tende a fare più spesso è pensare che la felicità sia lo scopo quando invece è la corsa al successo a renderci felici. La vittoria non è che la conseguenza di questo processo, perché è sempre il percorso che fa la differenza e mai solo l'arrivo. Per me felicità non è uguale al successo, ma è lo strumento che rende piacevole il processo che porta a grandi cose".
Federico Bertacchi
The weight of the media in success and defeat
"I was one of the most divisive examples, one who has never been afraid to say his opinion even to the detriment of me in some situations. But, both in victory and in defeat, constructive criticism must be treasured. Anything that is not constructive tends to demolish you and hurt you, even if this often goes unnoticed: "you are professionals and you have to accept everything" I have often heard, but we are still human with a heart, a heart that like that of everyone suffers. You need to have broad shoulders and personality to face all situations, both positive and negative".
Marco Materazzi
The School of New Football masterclasses are over and we want to thank Nike for the incredible opportunity and support, all those who participated in this five-day full immersion, the talents who took part in the sessions, all the guests who they enriched our journey within a football that is changing and that must become a safe and open place for everyone.