How to Beat Pressure and Enjoy Football
5 things we learned in the fourth masterclass of The School of New Football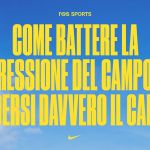 After having archived the third session of The School of New Football academy, the fourth of the five chapters that we will write in collaboration with Nike until Friday 9 July has opened. In the new masterclass, Francesco Abazia interviewed Pierluigi Gollini, Tim Small (Ultimo Uomo) e Stefano Bagnasco (Cronache di Spogliatoio). The three guests talked about their most stressful experiences and how one can handle pressure without panicking.
Together with Nike, we want to build a future for football where the game is a safe and judgement-free space. We want everyone to feel at ease and that the pressure that each of us can feel on the pitch does not turn into something paralysing. We talked about this and much more in the fourth session of TSONF and, for those who were not able to register and attend, here is a short recap of the answers of our guests.
The moment you realised that football was your passion
Definitely since I was born, I had the ball in my hands from a very young age. I started at the age of four to play with children two or three years older than me. I've been playing all my life and this sport has been and will always be my first love. Even when you were asked in primary school what you wanted to be when you grew up, my answer was always football. It's something I've always had inside me.
Pierluigi Gollini
The experience that put you under the most pressure
I don't know offhand it's difficult. I don't know because I've had different experiences at different ages and at different stages of my life and career. There are different steps in my opinion, a very difficult moment is definitely the transition from youth to the first team. You take a leap and start to understand if you are going to become something or not. That is a very delicate moment, when you are still young living with this thought is not easy, because you do not know if you will get to play where you wanted to or not. To manage this pressure, even if it is obvious, you have to do well, you have to train to the maximum of your abilities, but above all you have to do everything you can to be at peace with yourself.
Pierluigi Gollini
The different levels of pressure we are under
In my opinion it depends a lot on the moment you take the field for who or what you are doing it for. You feel the pressure for a goal that you have set yourself and then when you are about to achieve it you want to close the circle. But if you then think of all the people who have made sacrifices for you, who have followed you during games or training, you're on the right track, or almost. But if you let yourself be overwhelmed by other thoughts you can feel a bigger pressure on your shoulders than it is, because let's not forget that we are always talking about a game that, even if it is our reason for living, is still a game. It's clear that when you reach the highest levels and you're the one who fulfils the dreams of an entire people then you feel even more pressure. So it's normal to create different levels depending on the category you play in or the goals you set yourself.
Stefano Bagnasco
How to handle the pressure of the moment and prepare to give your best
One important thing in my opinion is to try to be in the moment, in the present, not to think about the future or the past, not to get caught up in the anxiety of what happened before or to think about the mistake you made. Trying to live in the moment is something that I think is important no matter what job you do, because otherwise you get distracted and you're never going to be able to give your best, which is what we all want to do.
Tim Small
The increased pressure on the goalkeeper's role
From a mental point of view it is without doubt the most difficult role in football. You have too much to lose and too little to gain, it is objectively so. Take the classic game where the goalkeeper performs miracles, and the striker, after making several mistakes, manages to score a goal, the idol will obviously be him. While if the goalkeeper makes a half mistake after saving everything, you are left with that stain on you. In fact I think that to be a real goalkeeper you have to be one inside yourself, it's hard to explain, it's clear that with experience you learn to understand things and manage every moment. You know what you're doing, you know what your role is, you know the things you have to live with, and then you get used to it with time.
Pierluigi Gollini
Take part in one of The School of New Football's free masterclasses: every day until Friday 9 a meeting with players, former champions and the football community to listen to the experiences of those who live football directly. Discover the calendar and sign up for the session of your choice by clicking here.