The new NBA commemorative logo
The Logoman will be placed in a diamond for the 75th anniversary of the league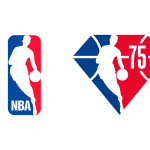 The NBA gets a makeover and unveils what will be the logo that will be used throughout the 2021-22 season, the 75th in the history of the National Basketball Association. The Logoman - never officially identified as Jerry West but recognized by all globally - remains unchanged while the shape of the crest of the American league changes decisively, turning into a diamond. The commemorative logo will be present on every NBA content and product: from merchandising to digital, from banners in the arenas to social media, from TV broadcasts to the individual items that will be created.
The commemorative NBA 75th Anniversary Season logo will appear throughout the 2021-22 season on courts and official NBA merchandise, inside arenas and in original broadcast, digital and social media content. pic.twitter.com/Tq7w3R2s7i

— NBA (@NBA) July 7, 2021
Despite the pressure of fans and great modern personalities of the NBA world to change the logo and dedicate it to Kobe Bryant, the league has never changed its brand identity if not minimally for commercial reasons. In 2017, the blue that accompanies white and red was changed, while we must go back to 25 years ago to mention the last commemorative logo launched to celebrate the fifty years since the founding of the league and the celebrations with the fifty best players ever.