Radio Jorginho: elegance and coolness at the service of Italian geometry
From his national team debut in 2016 against Spain to the Wembley final
After 120 complicated minutes, a simple, extremely delicate and soft touch, a caress placed in the low corner was enough to put an end to all the suffering and write a new chapter in our sporting history. We didn't need this penalty kick to give Jorginho the keys to our midfield, our heart and perhaps even the keys to our home. But it was his surgical precision, his being colder than ice at such a delicate moment that reminded us why Mancini decided to bet on him so obstinately since his arrival three years ago.
Little Jorginho left Brazil dreaming of Italy, he was just 15 when he arrived at Verona by stealth, with no contract and no guarantees. The tasks he performs in every game are quiet, but fundamental; they don't attract attention like beautiful goals or great saves. But yesterday, when the spotlight was on him, at the crucial moment he unleashed all his flair with a spell that made it look as simple as everything else he does. After all, it's no surprise that Jorginho is someone who talks with his feet as well as his mouth, and is used to taking on this kind of responsibility.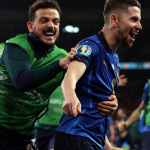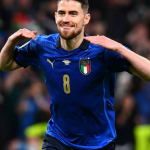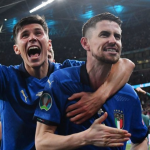 In front of those who had defined him as 'not ready' because his physique is not strong enough to withstand the pace and the game played in England, he has always responded with his quality. He is a lighthouse for the Italian selection, in this European championship he has made 431 passes, 93% of which have been successful. Numbers that make us understand how fundamental he is for our geometry, numbers that make him an essential player despite the fact that there are plenty of alternatives at the Azzurri.
A beacon that has become a pillar over time. It's the 19th of March 2016 when that young boy from Brazil makes his debut in the national team against Spain in a match that ended in a 1-1 draw, the strange coincidences of football. Since then his touches, his elegance and his vision have never left Italy, until yesterday when with that little jump and his icy calmness he snatched the pass for the final at Wembley. Now all that remains is the final act to conclude an adventure lived and played to the fullest, to try again to climb onto the highest roof in Europe, this time however with the national team but still with the same colour as a few months ago, or almost.