DAZN will produce a documentary on Ronaldo
The first of a series of 3 documentaries will be "El Presidente"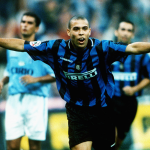 DAZN has formalized a multi-year agreement with Luís Nazário de Lima Ronaldo for the production of a series of documentaries on the football and then extra-football career of the Brazilian phenomenon. The first - arriving on May 20 - starts from the present and from the role of president of Real Valladolid held by one of the best strikers in the history of football. The documentary will be divided into six parts that shows the behind the scenes of the current life as an executive of Ronaldo, who on 3 September 2018 bought 51% of the shares of the Iberian club.
The structure will follow that of The Last Dance, with continuous flashbacks on Ronaldo's golden seasons and with the narrative incursion of various friends, opponents and teammates such as Roberto Carlos, Dida, Pep Guardiola, Boudewijn Zenden e Javier Zanetti. "With Zico and Pele, Ronaldo completes the three icons of Brazilian football" says the fellow R9 full-back, opening the trailer.
He was the best. Now he's the boss.

'El Presidente', a six-part docu-series that goes behind the scenes of Ronaldo's current life as President of Real Valladolid, brought to you worldwide on #DAZN May 20. pic.twitter.com/YWVteMSgtz

— DAZN (@dazngroup) May 5, 2021
Zanetti enhances his authentic and genuine personality, while Guardiola simply admits that the former striker of Inter, Barça, Milan and Real is one of the 3-4 strongest players ever. "This is a unique opportunity to tell my story," said Ronaldo. "Throughout my career, I have been fortunate to partner with many global sports brands and I feel DAZN is the right partner to help me bring my story to fans around the world."
"El Presidente" will have extra content and will be the first in a series of three special content that will be launched in 2022 and 2023.