Luka Doncic becomes Panini America global ambassador
The Dallas Mavericks star will join David Beckham, the face of the brand's football division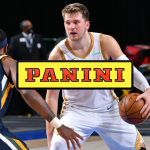 Luka Doncic, star of the Dallas Mavericks and one of the most incredible players in the NBA, has signed an exclusive deal with Panini America. From today the autographed memorabilia of the Slovenian phenomenon such as jerseys, basketballs and photos, are available exclusively on Panini Athletic, the memorabilia division of Panini America. After reaching an agreement with David Beckham to make the Spice Boy the face of the brand as regards the football world, Panini has decided to invest in a young but already established talent as the #77 of the Mavs.stire su un talento giovane ma già affermato come il #77 dei Mavs.
Doncic, despite being only in his third year in the NBA, has already recorded incredible results in the rapidly expanding sector of the card and sports memorabilia. Suffice it to say that in December of last year, a Panini Chronicles Gold Standard #LDC Luka Doncic Rookie Patch 2018-19 sold for $ 7.336,80 on the Lelands platform, while the price on eBay for a Panini Prizm Doncic 2018-19 card is already listed on $ 14.000.
The Slovenian, therefore, will be the new global ambassador of the "basketball" section of Panini America, joining a team already made up of Kevin Durant, Kyrie Irving, Ja Morant, Anthony Edwards, Rui Hachimura, Charles Barkley, Kobe Bryant and many other NBA stars.