S.S Lazio is official partner of eFootball PES 2021
So more details, better graphics, an Olympic Stadium in a biancoceleste version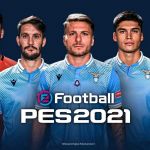 S.S.Lazio have sold the rights to Konami for eFootball PES 2021, a partnership with the Japanese video game that allow the Roman club to appear with personalized graphics. In fact, as happens between PES and other clubs - such as the Italian AS Roma and Juventus - thanks to this partnership the gamers who choose to play with Lazio will use avatars with attention to detail, which are also joined by S.S. Lazio official kit and logos, choirs and an Olympic Stadium faithfully reproduced in detail of when Inzaghi's team plays. Konami also released a video to celebrate the start of the partnership with Lazio.
To promote the agreement, PES allows all gamers who play the Legend gameplay (from console or mobile) to receive for free two S.S. Lazio historical icons, Paul Gascoigne and José Salas, to be used in the matches dedicated to this mode. The initiative is valid from December 10th to 16th 2021. With this agreement Lazio lands in the egames with an important partnership, which allows the Biancocelesti a worldwide visibility, but above all in the Asian market, where konami's product has an important market. As lazio president Claudio Lotito explained on the club's wevsite, the partnership will also allow Lazio "to develop and increase the popularity of the team's brand as soon as the pandemic allows".
The arrival of S.S. Lazio on PES geographically dichotomys the capitals of Italian football between the Konami video game and FIFA. In fact, in the 21st edition of the EA Sports video game, Inter Milan and AC Milan signed an exclusive agreement for which they appear with singular details and characteristics, while Lazio, with this partnership, reaches Rome that this year has chosen PES to promote its presence in gaming. And not only that: the Giallorossi have also used eFootball PES 2021 to launch the fourth game kit made with Brain Dead, which will soon also appear in physical stores, but initially usable only on a virtual level.