Real Madrid is the most valuable football brand in the world
No Italian team in the ranking drawn up by Brand Finance
According to the analysis of the Brand Finance study, Real Madrid maintains the title of football brand with the most value in the world even in 2020. In fact with 1.419 billion Euros (down compared to 1.644 billion in 2019), the club is in the lead this special ranking.
Another Spanish club, Barcelona, occupies the second position boasting a value of 1.413 billion euros, an increase of 1.4% compared to last year. Manchester United ranks third, at €1.314 billion (down 10.7%).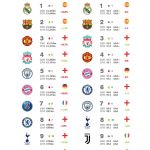 The top 10 in the ranking is dominated by Premier League clubs, which are six in total. In addition to the two Spaniards, there is also a German club, Bayern Munich and a French club, Paris Saint-Germain. No Italian representation in the top ten, with Juventus remaining in 11th place, but with an increase in value of 11% to 676 million euros.
In terms of brand strength, Juventus remains in the top 10, in 9th place in the standings. Real Madrid remains in first place, followed by Barcelona and Liverpool, which overtakes United.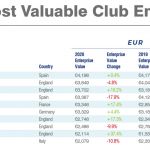 Also at the Enterprise Value (EV) level, Real Madrid maintains the leadership, with a value of over 4 billion euros. Second place for Manchester United, with a value of over 3.8 billion and third for Liverpool, with 3.7 billion. It drops by one position, but Juventus remains in the top 10, with a business value of 2.079 billion euros.