Roberto Baggio's Diadora
The football icon that made the history of a brand
Roberto Filippi was the first one. It was 1980 when Diadora designed for Napoli's midfielder a total white pair of boots that hit collective imagination. Sixteen years later, in a desert San Siro Stadium, George Weah is on the pitch: he's wearing his red ''Club Pro''. Gianluca Vialli and Roberto Baggio are netx to him: all of them are ready to a strange match against three lions. ''The Cage'' by Nike had not yet been imagined and we're distant from ''Good vs Evil'' dystopia or disturbing atmospheres by adidas before 1998 World Cup: anyway the resulti is appreciable and we have one of the most iconic commercials in italian football history.
An history that Diadora helped to write, wearing Italy National Team in two of three World Cups in the 90's and the player that dominated that competitions. On June 19, 1990, in the group stage last match, Roberto Baggio dribbles all Czechoslovakia defenders and scores one of the greatest goals in World Cup history: he's 23 years old, has become Juventus new number 10 after a transfer destined to change the face of Serie A, and he's wearing a pair of Diadora ''Classic Pro'' that, since then, will take his name forever.
Four years later, after designed one of the Azzurri's most iconic jersey – tridimensional numbers and letters, green, white and red inserts on sleeves and necks – Diadora launches the ''Brasil'', a toatl blue model designed for the Baggio (Roberto and Dino) and Signori: a beautiful but unlucky model because the three players will be decisive in the quarter-final match against Spain wearing more traditional boots, almost certainly because superstitious questions after a complicated group stage. Signori and Baggio developed their connection for the 2-1 goal against spaniards into a commercial in which they dancing like tip-tap dancers: also in that case Roberto wears ''Match Winner RB number 10'', black with yello fluo inserts, the signature shoe delivered to the immortality during that hot american summer.
In 1998 it's World Cup again, it's Baggio again, it's Diadora again. The union between italian company and Caldogno's champion it's unbreakable and scans Baggio's career milestones. After scoring 22 goals with Bologna in Serie A campaign, Baggio gains the convocation in Italy's roster: Diadora designs for him the ''RB 10 Mars'', with the black and metallic grey on the upper to bring out the yellow logo. With that boots Baggio assist Vieri in the first match against Chile (the same in whic scores the 2-2 penalty kick, four years after Pasadena), delivers to Gigi Di Biagio the ball for his first goal with National Team against Cameroon, scores the late goal against Austria, become the author of the beautiful ''not goal'' that agitate the nightmares of a generation:
The ''RB 10 Mars'' will accompany Baggio during Inter years and at the beginning od his adventure with Brescia, before thedeal with Akuna, a brand from Ascoli-Piceno, that realizes for him a total black football boots (with the names of his sons on the heel) worn between 2001 and 2002.With that shoes Baggio tries a desperate, emotional and unfortunately useless run to 2002 World Cup, coming back on the pitch 76 days after his left knee injury, scoring three goals in the last two championship's games and saving Brescia from relegation. Starting the next season Baggio inks a new Diadora deal that means a new total white model with personalized black and gold inserts – with a reboot in 2018 – and a successive light blue version, worn during his last match with National Team (April 28, 2004, against Spain in Genova) and his last ever, in San Siro facing Milan.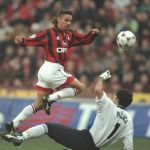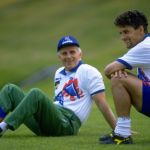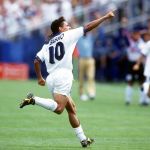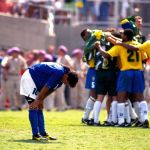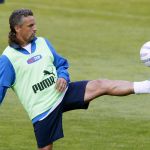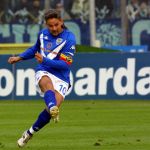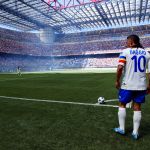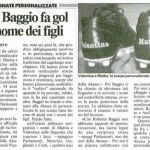 Also after his retire, Baggio continues to be the main athlete of the brand. He is the global face of ''Passione Totale'' campaign in which Roy Keane and Antonio Cassano – put under contract in 2010, with a press conference during which president Enrico Moretti Polegato gives him the mythical 1994 "Match Winner" –will appear and, in the summer of 2017, the same line undergoes an accurate makeover inside ''Diadora x Roberto Baggio'' collection. It's also released a ''Match Winner'' futuristic version, the ''Blueshield RB'', that combines the brand's power of tradition with the news inspired by the wold of running, like touch & feel upper, kangaroo leather inserts for a better grip and the sole realized thanks ''Diadora Blueshield'' technology, combining comfort, cushioning and reactivity. But nothing beats the classic: ''Match Winner RB Italy OG'' timeless charm, also in his white and blue colorway, it's in his connection with a timeless football. The Roberto Baggio football.