ESPN announces the release of ''Game 6: The Movie''
It's an extra content of "The Last Dance"
The series of records ''The Last Dance'' ended yesterday but ESPN has already announced that it has not ended here: in fact it is already in programming ''Game 6: The Movie'', an in-depth analysis that will concern only race-6 of the Finals 1998 NBA between Chicago Bulls and Utah Jazz.
''Game 6: The Movie'' will present unreleased and exclusive films captured by five NBA Entertainment cameras - the same ones that followed Jordan throughout the season - that will accompany the broadcast of the game that will receive the original commentary of Isiah Thomas, Doug Collins, Ahmad Rashad and Jim Gray.
For the first time, we will be able to attend one of the most iconic games in NBA history in high definition, making sure to see any detail of Jordan's 87 to 86 shot for the Bulls that will allow the Windy City team to win. their second three-peat.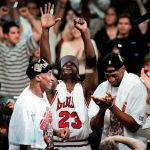 ''Game 6: The Movie'' will be broadcast in American preview on Wednesday 20 May at 21:00 after the repeats of episode 9 and 10 on ESPN and, presumably, we will be able to see it starting from 9:00 the following morning in Italy.