5 things you may not have noticed in "The Last Dance"
Episode 7 & 8 edition
Episodes 7 and 8 of "The Last Dance" also go on file, surely the most emotional episodes seen so far. Jordan's retirement from basketball actually upsets the world, paralyzes the city of Chicago, upsets any logic as it was in the air. The words of owner Reinsdorf are a clear sign that, even if you know the fate, it is always difficult to say goodbye to those who have given so much. The murder of James Jordan gives a tragic dimension to the purely "Jordanian" story in these last two acts. Yet what appears with greater clarity is still Jordan's mentality, for good (with Wennington explaining how hard it was even just to be close to him but recognizing his value as a teammate) and for bad (with Kerr ending up in an outburst aggressive of MJ).
The "emotional" aspect of the fourth round of episodes leaves less space for all the details that have accompanied us so far, but does not leave fasting the most attentive to the constant search for fashion and lifestyle elements to also venerate the cultural and stylistic icon and not just that basketball. Here are the 5 things you may not have noticed in episodes 7 and 8 of the ESPN and Netflix series.
Michael "denim" Jordan
The romance between MJ and baseball - Dad James' sport - will lead Jordan to quit basketball to try and become a professional MBL player. A not so immediate transition, especially in stylistic terms. When Jordan was called to make the first launch of the American League Championship Series in 1993, it didn't go badly for still being a basketball player. It goes much less well with the choice of the outfit to take the field in front of the 92,492 eyes of the Comiskey Park to which are added millions of people on live national TV. SBNation.com called it "more denim than man in 1993" and it didn't go far from reality.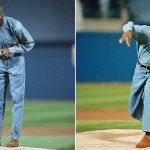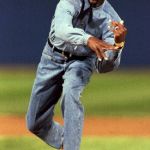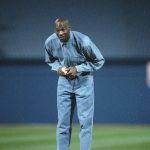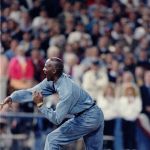 James Jordan's painting
The murder of James Jordan, father but above all Michael's adviser and friend, shocked and confused the mind of the best player of all time. The media have taken care of increasing pressure and suffering, ready as jackals to connect some vices of Michael's personal life with James' tragic death. The moments in which Jordan remembers his father's closeness, relationship and presence at all times are touching and exciting. In episode 8 of the series, while Jordan talks to Harper and other teammates after B.J.'s defeat against Charlotte Hornets Armostrong, you can see a painting that depicts Jordan's winning moments lived with his father. A detail that makes it clear how close the two really were, more like best friends than father-son.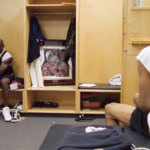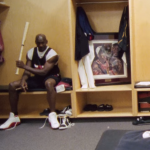 How much is a Michael Jordan towel worth?
After game-3 of the 1998 conference semifinals won against the Hornets, Jordan has shown once again to the world who is the best and that you should not "throw meat to a tiger" as Mark Vancil recalls. Coming out of the parquet of the Charlotte Coliseum, MJ has his head down and his head already in the shower. He has the usual towel on his shoulders, but at some point he reaches out a hand from the audience who manages to take away the towel. There is, therefore, a lucky or a lucky fan of the Hornets who has a Jordan memorabilia with a certificate of authentication thanks to "The Last Dance". 22 years later the question is: how much can that towel be worth today? Considering that the latest towel used by Kobe Bryant - that of the "Mamba out" speech to be clear - went away for the beauty of $ 33,000, no wonder if the fan sold it for a higher figure.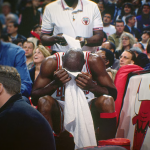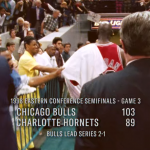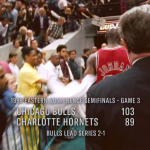 "U are not at my level. Get paid"
Jordan's ego - and all the stars that reach a certain level of notoriety - is one of the most obvious things in the documentary of ESPN and Netflix. Ego that, mixed with competitiveness and its winning and leader mentality, often flows into details that may seem like exaggerations but which instead only tell who Michael Jordan really was. In the historic "pickup games" played in Los Angeles - in a field built just for him during the filming of Space Jam - many people came to want to confront Jordan. A Jordan that still had a bitter taste in the mouth after being eliminated from the playoffs after his return. Often "naked" was played against "clothes", as is done in most pitches in the summer. In one of Jordan's training shirts it says "U are not at my level" on the front, or "you are not at my same level" and on the back there is a big "get paid". George Clooney would have said "Michael Jordan, what else?".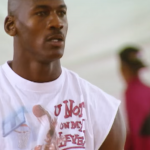 Meme once again!
Michael Jordan è stato un meme diffuso per gran parte degli ultimi 10 anni, ma con "The Last Dance" ha guadagnato l'immortalità non solo come leggenda cestistica, non solo come icona di stile, ma anche e soprattutto come re dei meme. Ce ne sono già almeno 3 in archivio di altissima fattura, ma durante l'episodio 8 arriva la quarta perla della serie. Durante una dichiarazione di Gary Payton, Jordan non riesce a credere alle parole di "The Glove" e scoppia a ridere come se avesse sentito una barzelletta.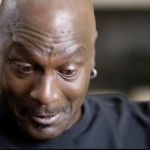 Bonus track: the intimidating designs of the young Hornets fans
Cute. Difficult to find a better word to describe them. The Bulls are called to react after a decidedly complex game. Jordan has his own personal motivations and wants to "annihilate and dominate" Armstrong. Before entering the field, there is the usual huddle and the usual "What time is it? GAMETIME, uh!". This time there is a minimum of delay because the eyes of all the Bulls players are captured by the sweetest "intimidating" designs handmade by the youngest Charlotte fans.