The trailer of ''Basketball County: In The Water'', the documentary produced by Kevin Durant
''A movie about community, made by the community, for the community''
If you thought that the endless wave of docufilms starring the NBA stars had ended, you were wrong: after waiting for ''The Last Dance'' for a long time, after the news of Kobe Bryant that brought back his last season by a television crew, followed by the announcement by Magic Johnson that he has planned the realization of the documentary and after having seen the new logo of ''Space Jam - The New Legacy'' by LeBron James, here is the official trailer of ''Basketball County: In The Water'', the documentary produced by Kevin Durant, Victor Oladipo, Quinn Cook and the Showtime production company.
The documentary focuses on Durant's hometown of Prince George's County, Maryland, which has spawned the most professional basketball players in the past 20 years, including Olapido, Cook but also Jeff Green, Michael Beasley, Markelle Fultz and Marissa Coleman.
Several factors likely contributed to the county's growth as a basketball hub, including the influx of Washington residents after the assassination of Martin Luther King, the ensuing riots in 1968, and DeMatha's incredible success under the legendary coach Morgan Wootten.
"This is a project that is close to and dear to my heart," Durant said in a statement to the Washington Post. "Having grown up in Prince George County and today with my family residing there, the mission of my life is not only to restore my foundations, but to continue telling extraordinary stories of those who came from there. I am really excited to collaborate with Showtime and that fans can hear some of the best players in the world about what PG County means to them''.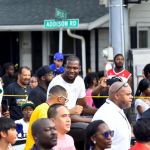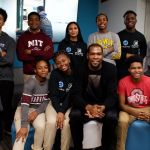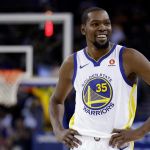 "I knew we shouldn't just ask him to support us, but show him some work, so I did some interviews with some local NBA players and sent it to KD manager Rich [Kleiman]" said John Beckham, co-director who also grew up in the same region, who has been working on the documentary for three years. ''If I hadn't do that, I'm not sure Kevin would have agreed to make the documentary. He's really showing the county with the film, but also everyone involved. It's a community film, made by the community, for the community" concluded Beckham.
''Basketball County: In the Water'' will premiere on Showtime on May 15 at 9pm.