Footeuses, the documentary on Parisian women's football
Yard and Miles present the third episode of the saga "Ballon Sur Bitume"
After the success of Ballon Sur Bitume and Ousmane, which tell us the childhood of the Barcelona forward Dembelé, on February 21 the production house YARD, together with Miles, officially launched the new documentary on French women's football on Youtube, Footeuses.
YARD enters again between the 11-a-side fields and the pitches of the Parisian suburbs to tell how women's football is an increasingly growing movement, especially after the last World Cup 2019 held in France, telling it through direct testimonials of already established players such as the Paris Saint-Germain players Grace Geyoro and Nadia Nadim, the former defender of the French club Laure Boullea, of rampant young talents and artists such as the singer Aya Nakamura.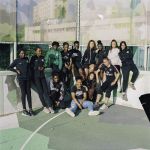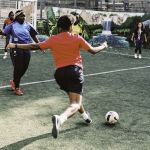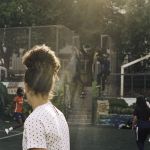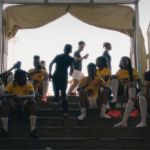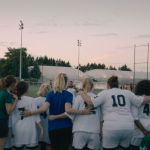 For young Parisian girls, football is a fundamental part of their life and Footeuses not only gives us an idea of ​​their mentality and style of play, but also represents an ode to their tenacity and dedication even off the pitch: for some of them getting to professional football is a declared goal, but for the most part of them football is experienced as a method of redemption and emancipation, especially in a world that still lives on clichés linked to the male world.
We decided to join directors Lyna Saoucha and Ryan Doubiago to talk about their latest work:
The question of acceptance and the fact that football is considered a purely male sport, results in a sense of unity out of the ordinary, as if all the players had the same need for social redemption. Do you think this feeling is particularly tied to the world of football or can it be seen in other sports in France too?
L: I think this feeling is tied to every collective sports, but in none of them you will find a sense of unity as hard as in football. It is mainly because football is the #1 sports in France and really brings people together in the country. Something that's relevant is that, even tho it is considered as a purely male sport, it's not only a man thing. When France won the 2018 World Cup, you could find parents, children, boys, girls, entire families and friend's group celebrating. This is also where you can remark that every one has a story with the game, no matter who you are.
R: I think it can be seen across many sports, particularly team sports such as basketball, handball, and rugby.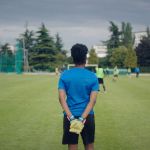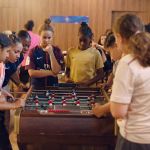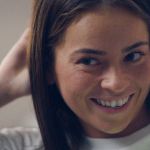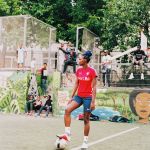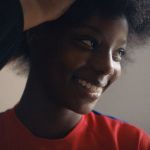 In the documentary there are several players who live with nostalgia the times when they played in their neighborhood, as if the most important thing was fun and not reaching a goal. It seems that love for the game linked to emotion is stronger than ambition itself. do you think this gap is due to a much lower salary than the male world?
L: When you are a guy from the suburbs, most of the time the two main goals that you can have to succeed at life is to be a rapper or a football player. Personnaly, I think that the gap is due to more that just a lower salary. The girls playing are not even imagining having a carreer or having money. It is important to remind that football was forbidden for women in france from the 1940s to the 1960/70s. The first official female World Cup took place in 1991 ! So the History explains this gap very well. And because fame and money is not accessible yet to the women, they are not reasons for them to play. Whereas for guys, football players wins millions and millions and are worldwide famous superstars. And that can be a motivation for them to play.
R: It could be. I think even in the male world, in order to put in the work necessary to become pro you need that passion and that emotion. But yes I do think that because the salary isn't as much of a motivating factor, these women play simply because they are incredibly passionate of football. It becomes part of their identity, and as they keep moving up to higher levels of competition i think the pressure grows as well. Sometimes it's easy to look back at playing at a young age in their respective neighborhoods and remembering what it was like to just play for fun without any pressure.
The impression is that within the neighborhoods there is no difference between man and woman at the moment you are in a football pitch. It's a logic that reminds me so much of the American block mentality. Is it just a matter of multiculturalism or is there something else? Has it always been like this or has there been a turning point?
L: I personnaly disagree on this one. All the girls agreed to say that they have to prove first before being accepted on the pitch. A boy can play and if he is good he stays, if he is bad he is out. When you are a girl, guys will expect you to not know how to play. I am telling "guys" cause they are the one running the pitch in the neighborhoods. The girls needs to show them that they can play, by showing them that they master some technical skills. And based on what we have seen since the first "concrete football" film, it has always been like this.
R: In France women's football was illegal from 1932 to 1975... That means the sport is relatively in its infancy here. I think it's a cultural problem as well. In the US, football exists as a school sport. You have the option to play on a school team from a very young age. In France, we are just now seeing the creations of clubs for young players. Many of the women in the documentary didn't have those opportunities.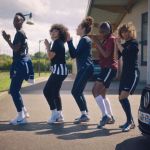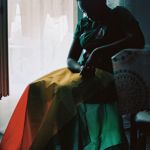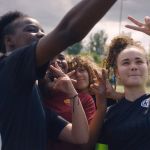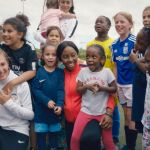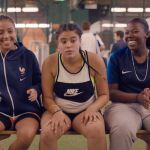 The documentary also talks about fashion. How much do you think the women's football market can influence the upcoming trends of big sports brands? In other sports there are already female testimonials on which nike and adidas are building real campaigns, who do you think could be the ideal testimonial to definitively launch French women's football? Do you think it's the right time to produce ad hoc items for women's football?
L: In France, the importance of fashion was very present during the entire Word Cup. As you may know, the french football team is sponsored by Nike and the brand decided to create special jersey for the women's team, which has never happened before. They also did an entire collection about the World Cup and you could see everywhere boys and girls wearing the women's jersey. In France, I will definetly see Amel Majri or Grace Geyoro be great representant, but each girl from the team is relevant and could be a symbol of it. I just hope that this is not just a trend and that brand's and media's work will last for ages.
R: Yes!
Thanks to this documentary, the spotlight is turned on girls who, hopefully, will inspire millions of other players, regardless of their generation or social class of origin, showing a game made for real fighters despite all the existing prejudices.
''For the women who learned to play soccer just like the men and with them. For those who are still doubting them and those who support them.
For the women that love football''.