Tiémoué Bakayoko becomes shareholder and ambassador of Études
The former Milan and Chelsea midfielder enters the world of fashion: "I would like to inspire many athletes"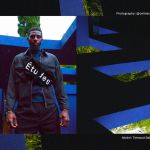 From the Louis II field to the elegant and always seductive Paris. This is the way of Tiémoué Bakayoko, current AS Monaco midfielder and new shareholder of the French brand Études. The 25-year-old French-Ivorian enters the world of fashion, following in the footsteps of many of his colleagues. Études is the perfect project for ex Milan and Chelsea, which in fact tells:
"I've always loved fashion and my casual yet elegant style reflects this. I found this same vision at Études and I was immediately on board. By becoming a shareholder, I hope to inspire athletes and fashion houses to open up to new worlds and profiles. Difference is an asset."
The choice of the French brand was as important as it was logical, following the trends of a market that is changing points of reference. Just as in the case of Acne Studios and Loewe and the activations of Russell Westbrook and Megan Rapinoe respectively, Études also moves in this wise direction. Born in 2012 from an idea by Aurélien Arbet, Jérémie Egry and José Lamali, the brand unites different worlds under the same concept: from publishing business to art, from design to fashion. Behind the scenes is the work of David Bellion, a former Manchester United striker and founder of the Super Vision Office:
"Usually, football players consume fashion. Tiémoué, on the other hand, takes part in it. He will be a shareholder, ambassador and collaborator all rolled into one. Borders can now be shifted. Until now, athletes went to Fashion Week but didn't go backstage. This original partnership represents the changes at work within our industries".
After the rumors that saw him close to the Rossoneri again, Bakayoko plans his future even away from the playing field. Due to expire in June, the Frenchman will not know where he will play next year. Whether it's Milan, the Principality of Monaco, or London, fashion will remain at the center of Bakoko's life.