The new South Korean jerseys by Nike
The Swoosh gives a radical change to the Asian tiger uniforms
Each country has unique stories and cultures. For this reason Nike in 2020 decided to pay homage to each football federation with an ad hoc collection, reminiscent of the teachings of the successful Nigeria 2018 collection, which we talked about here.
After the presentation of the new logo, Korea receives an important redesign in the wake of its vibrant Hallyu culture. The Korean wave is represented on the home kit with a wavy motif composed of the trigrams of the national flag. Trigrams that also appear inside names and numbers on the back of the kit. The vibrant pink on the upper body changes to the 'new' red of the federation through the bust and shorts. The kit is completed with socks, on which the word 'Korea' appears. The away kit undergoes a radical change from the previous one, with white and black tiger motifs on the shirt and socks. All stripes in the print were originally hand painted by the Nike design team. The use of the white tiger is by no means an accident, given that in Korean mythology it is considered a sacred creature, a symbol of courage and power. The kit, completed by Swoosh applications and metallic gold badges, is designed to give a sense of luxury.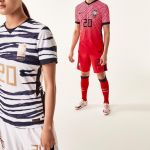 As well as for the new Nigeria and USA shirts (presented during the Nike Future Sport 2020 held yesterday in New York and which absorb sweat 55% faster, 13% more breathable and 10% more elastic than the previous kits), in Nike's work there are deep cultural dives; this is not a coincidence: the Swoosh collaborated with each national body to ensure that the projects were truly identifying. From hand-drawn prints to personalized characters, the appearance of each team will be different from each other, a real revolution compared to the "templatization" with which Nike designers had always had to work.
The large collection of South Korea, which will be unveiled in the coming days, will include unique items, such as overalls and sunglasses, as well as a significantly greater number of women's clothing than in previous years.
Nike is expected to unveil more kits for its remaining federations. Keep it locked here.