A Supreme x MLB x New Era capsule collection, coming soon
Is the American brand about to officially join the baseball world?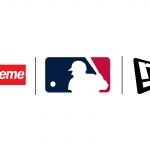 Supreme's next sports collection will concern the world of baseball: the American brand will launch a capsule collection in collaboration with the Major League Baseball and New Era for the Spring/Summer 2020 season. The leak has been dropped from the Instagram account DropsByJay, who in addition to the news also posted a photo of a skater wearing an orange jacket that will be part of the future collection.
The incoming capsule will be composed, in fact, of a varsity jacket, jersey and hat in which the Supreme, MLB and New Era logos will appear, which however will not be the only items made, most likely accompanied by accessories. It is no surprise that Supreme, after basketball, decided to focus on baseball, a sport for which there has always been a deep interest and which has often inspired the past collections of the American brand. We had already talked about it almost three years ago, here: cyclically baseball became, more or less systematically, protagonist of the releases of the main streetwear brands. And that of Supreme is perhaps the most eloquent case, given that not a year has passed since it does not include in one of its drop shirts and jackets with baseball appeal (if not declaredly such).
Stay tuned on nssmagazine for all the updates of the upcoming release.