The Roger Federer's UNIQLO kit for the 2020 Australian Open
Navy e purple for the Swiss champion
After being seriously at risk due to the fire emergency, the upcoming Australian Open will be held regularly, starting on January 20 on the Melbourne hard courts. There will also be 38-year-old Roger Federer, who has already landed in Australia to prepare himself for the first Grand Slam tournament of the season, and here's the outfit with which he will take the field, produced by UNIQLO as well as that of the other ambassador, Kei Nishikori.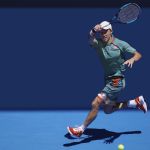 The Japanese brand and the Swiss champion have chosen a kit made up of a navy blue shirt and purple shorts, which will most likely be combined with white socks, purple band and cuff. As unpublished as it may seem, Federer - who will however continue to wear Nike shoes, because of the agreement signed with the American brand previously - wore a color similar to purple in 2018, opting for a rather particular coral pink. The big news, however, is that relating to the material used by UNIQLO in the name of sustainability, DRY-EX which uses polyester fibers recycled from PET bottles, maintaining functionality and comfort. As Roger Federer himself stated about this:
"I was surprised to hear that polyester can be recycled from PET bottles and turned into clothing, and I am pleasantly impressed with its functionality and comfort, which is indistinguishable from the DRY-EX fabric I previously wore."

The new uniforms, designed by a team of international designers at the UNIQLO Research and Development Center in Paris, led by the Artistic Director Christophe Lemaire, will be on sale on UNIQLO.com starting from January 17th.