D'Angelo Russell signed a partnership with Dwyane Wade's brand
The Warriors player will wear the new Way of Wade signature shoes
Former Miami Heat star Dwyane Wade announced Thursday in the B/R Kicks announcement video that Golden State Warriors guard D'Angelo Russell will be the 'on-court face' of the 'Way of Wade' brand, founded by the three-times NBA champion. 7 years ago, he decided to leave the shoe company he was with to sign with the chinese company Li-Ning, becasue he "wanted to show the next generation of young people, especially athletes, that it's not just one way of doing things" - as he wrote on his Instagram account. He had a chance to build his own brand inside of Li-Ning with the motto 'Make Your Own Way'.
"My decision 7 years ago was for moments like today. I'm excited to announce I've just signed my first signature athlete - D'Angelo Russell"
In the press release, Wade expressed excitement for the partnership with Russell: "I have much respect for D'Angelo and the way he plays the game. I am excited for this partnership and wouldn't want anyone else to be the leader and the face of this brand". The Golden State number '0' also expressed satisfaction regarding the partnership, saying that he "grew up admiring Wade's on-court performance."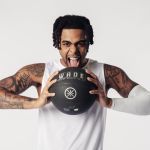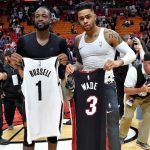 Russell began his fifth NBA season and his first with the Warriors, after his experiences with the Los Angeles Lakers and the Brooklyn Nets. The No. 2 overall pick in the 2015 NBA draft did well in the last season when he averaged 21.1 points, 7.0 assists and 3.9 rebounds per game, being traded to Golden State during the offseason while maintaining its high performances.