Inter Milan unveils new 2019/2020 font
"Not For Everyone"
Together with the Home jersey for the 2019/2020 season, a few months ago Inter Milan showed for the first time also the new font that will appear on the uniforms of Antonio Conte's players. The new character was on the pitch for the first time during the last thriller match of latest season, when a goal by Radja Nainggolan had given the Champions League sending Empoli to Serie B. All those emotions had put in third or also the fourth floor the launch of the new Home Kit, as well as the typographical choices of the Nerazzurri and the sponsor Nike.
During the weekend the team was on the pitch for the first seasonal match, with the success by 2 to 1 against Lugano, for the occasion the new jersey, which features the diagonal bands inclined at 45°, took to the field, break the historical pattern of the Nerazzurri shirts. The new font is inspired by this detail, with the edges of figures and squared letters inclined at the same angle as the strips on the mesh, for a decisive and modern look. Within the typographic element, is then inserted in negative - at the bottom - the crest of the club.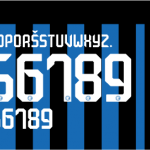 Inter is ready to start the season, with a new spirit also transmitted by the video of the new "Not For Everyone" brand campaign. The Milan club adds a further element of interest to the Serie A regarding the design of the uniforms, a very strong identity as well as that of AS Roma and FC Juventus in Italy, but also of FC Barcelona and Arsenal FC in the rest of Europe.