Cristiano Ronaldo's bizzare barefoot shoes
The umpteenth gimmick of the Portuguese star powered by Vibram
Some time ago we talked about the sneakers most worn by footballers, exploring their tastes and preferences. However, today we are in front of a new specimen of sneakers: they're quite strange, without a clear sign, and with an ambiguous structure, and they're surely intriguing despite its ugly look. We're talking about the bizarre Vibrant FiveFingers, the last aesthetic oddity of Cristiano Ronaldo that hides a well precise athletic-preventive function.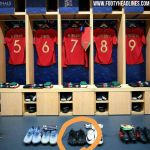 The strange shoes were photographed in Portugal's locker room before the Nations League final, along with lots of football boots, including those of CR7 and in front of his space. This is one of the few times in which Ronaldo wears shoes not signed Nike. What if the motive was the simplest of all? Perhaps, the Portuguese top player wears these shoes to rest his feet after matches! In fact, the toe shoes, also known as barefoot shoes, are more than simple rocks shoes: shoes of this genre keep the foot well distended and totally adherent to the ground and help a lot to relax and stretch the sole of the feet. Then, Vibram's sole which is waterproof, flexible and technical, allows its wearer to have perfect comfort and the maximum grip. So, logically, we can say that this is the umpteenth idea of the Juventus striker in finding ways to care for his body in the most creative of ways, an obsession in line with his sessions of ice cold bath and massages at the end of each game.
That said, Ronaldo wearing Vibram, who collaborates with Alyx and Woolrich, sounds like a scoop. What will be Nike's reaction?