"Au Revoir" the Manchester United jersey by Golden Cabane
A famous Nike commercial inspired the new shirt dedicated to Éric Cantona
The creative studio Golden Cabane is not new to redesigns of old 90s football shirts in a modern key, an example is the Paris Saint-Germain jersey of the 1994/1995 season, reinterpreted with an oversized swoosh.
The latest model presented is a football jersey dedicated to Éric Cantona, among the players who continue to influence projects and retro collections.
As for the PSG, a 94/95 kit was filmed, despite the fact that the Red Devils in that season had Umbro as a sponsor on the uniforms and not Nike. The jersey could only be of the devil's color, with a V-shaped collar and black cuffs. On the back have been inserted the name and number 7 of the French champion while the gothic writing "Au Revoir" on the front is a tribute to a cult Nike commercial of 1996, in which King Éric, defeats a team of demons along with Maldini, Rui Costa, Figo, Ronaldo Nazario, Kluivert and Campos.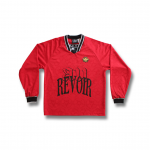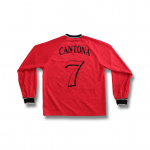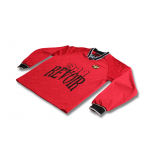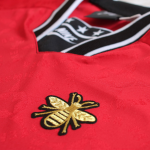 A grey crewneck and white T-shirt are also included in the capsule, with a print of former Manchester United on the back.
Golden Cabane has also recently presented a jersey dedicated to ACF Fiorentina, taking up the model of 91/92, years in which the team was sponsored Lotto. Also in this case a graphic with a pink lily was placed on the front of the shirt, superimposed on the word "LaViola". Italian football has greatly inspired Golden Cabane's projects, as shown by the shirts dedicated to the years of Kappa at Juventus or the Jersey "Catenaccio", which jokes about one of the most consolidated tactical schemes of Italian football.