Why are there two dots on Iheanacho's shirt?
There's a special reason behind the choice of the Leicester Nigerian striker
He was one of the protagonists of the Premier League Monday night between Manchester City and Leicester, the match that Citizens won 1-0 approaching to the title. Came into the pitch in the second half, Kelechi Iheanacho missed a sensational chance in the final minutes that would have given the Foxes a draw, but also a very big disappointment for his former fans. Yes, because the young Nigerian, before moving to Leicester in 2017, played two seasons with the City shirt.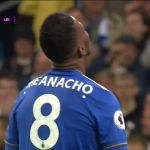 Iheanacho, however, did not play very much this season: 30 appearances, most of which as a subs, and only one goal. What we could not notice, when he entered, were the two dots close to his surname on the shirt, respectively under letters I and O: not for a stylistic choice, but for a precise reason that has to do with the striker's origins. Iheanacho was in fact born in the state of Imo and is part of the Igbo ethnic group, according to which some letters are accompanied by dots because they indicate a different pronunciation. The Igbo people are one of the largest groups in Africa, including about 30 million people, including some Nigerian sports celebrities like Jay-Jay Okocha and Nwankwo Kanu, but also the 'Italian' Stefano Okaka and the basketball player Andre Iguodala.