The 10 best left-footed players in 2019
Those who are making us rub our eyes every time we watch them play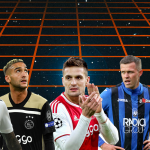 According to sketchy percentage, the left-handed people are about 10/15% of the world population: considered for centuries subjects with an 'evolutionary weakness' and therefore defective (the Latin word 'mancus' is a clear negative prejudice), almost abnormal, are instead characterized by a more pronounced creativity, clearly out of the ordinary. Usually used to using the right side of the cerebral hemisphere, according to science left-handed people have a series of advantages over right-handed people: above all a different perception of space and a particular way of governing their's body, and also emotions.
In the world of football, the quality of left-handed people has always come up almost spontaneously, because it's more pure and transparent: it's not a coincidence that some great players of the past preferred the use of the left foot (yesterday Maradona, today Messi) and still today seeing lefties at work is a pure show: inspiration is into the movements, in the way of kick the ball, in coordination, almost everywhere.
For this reason we have selected our favorite ten left-footed fantasists who started 2019 in a brilliant way, without including some top players like Messi, Salah, Di Maria and Griezmann or those who are not living their best period as Dybala: there are mature talents, young promises and also two Azzurri, hopes of Italian football.
Josip Iličić
Club: Atalanta
Age: 31
Nationality: Slovenian
Discovered from Palermo, grew up in Florence and finally matured in Bergamo thanks to Gasperini: the Slovenian in the last two seasons has been devastating, proving to be one of those players we would see playing for hours and hours without ever getting tired.
Dušan Tadić
Club: Ajax
Age: 30
Nationality: Serbian
We have rarely seen a dominant performance like that of the Serbian in the Champions League's second leg against Real Madrid: skills, kissing passes and even a great goal that made the Dutch's evening unforgettable. Like his season with 48 appearances, 32 goals and 20 assists.
Bernardo Silva
Club: Manchester City
Age: 24
Nationality: Portuguese
Brought to England from AS Monaco for over € 50 million, the Portuguese became one of Guardiola's main offensive weapons, which occupy the field in an unusual position, less offensive. And he immediately learned how to move in the new role: 'Man of the Month' last March, in 2019 he has already scored 3 goals and served 6 assists.
Federico Bernardeschi
Club: Juventus
Age: 25
Nationality: Italian
Even if he doesn't score much, the Tuscan boy has slowly become one of Allegri's favorites at Juventus, thanks to his generous performances: among the highlights of his 2019 undoubtedly the return match against Atletico Madrid, in which he showed off all his baggage of quality and physique.
Hakim Ziyech
Club: Ajax
Age: 26
Nationality: Moroccan
Together with Tadić, the Moroccan offensive player born the Netherlands is living his best season, right at the ideal time. He has a very precise left-footed and above all knows how to play great in small spaces, and when he swaps quickly with his teammates, it's a real show.
Giovani Lo Celso
Club: Betis Sevilla
Age: 23
Nationality: Argentinian
Released too soon from PSG, the Argentine midfielder is playing a great season in Spain at Betis Sevilla, of which he is currently the best seasonal scorer with 15 goals. The AC Milan fans, the team against whom Rosario's guy scored twice in the Europa League, know something about it.
Kai Havertz
Club: Bayer Leverkusen
Age: 19
Nationality: German
One of the next big thing in German football is this left-footed from Bayer Leverkusen, who at the age of 19 has already scored something like 20 goals in the Bundesliga, including this splendid goal at Leipzig. For him, elegant and concrete, have already been made important comparisons.
Leroy Sanè
Club: Manchester City
Age: 23
Nationality: German
Another arrow in the span of Pep Guardiola at Manchester City is undoubtedly the German winger, a player so amazing that even today we can't understand how Low left him at home in the last World Cup. He's able to kick with the left foot but also very well with the right one, a quality that makes it really complete.
Nicolò Zaniolo
Club: AS Roma
Age: 19
Nationality: Italian
It seemed like a simple counterpart in the last summer market window, and instead the AS Roma player has just blossomed and in a few months he was able to show off also in Europe with the home brace against Porto, but also in the national major team. After the first goal in A at Sassuolo, his season is growing fast.
Nicolas Pépé
Club: Lille
Age: 23
Nationality: Ivorian
The only player able to contest to Mbappé the top scorer's ranking in Ligue 1 is the Lille striker, one of the great revelation of the season: he was born in France but is origins are from the Ivory Coast, and at the end of the season he will most likely say goodbye and come in a big team.