Ghali and the Gucci's gold shin guard
The unusual accessory worn by the Italian rapper before Milan's derby
Milan's derby was a show and not only thanks to the 5 goals and the 80 thousand in the stands, but also the show that opens the match, during which Italian rapper Ghali presented "I Love You", the new single that anticipates what is one of the most anticipated albums of 2019. As for the tour in the stadium of last autumn, Ghali in San Siro has worn a total Gucci outfit. More than the shorts, the Ace sneakers, the socks and the leather-embroidered jacket with floral motifs, the gold shin guards attracted our attention, part of the FW19 collection presented in Milan during the last Women's Fashion Week.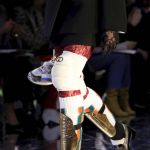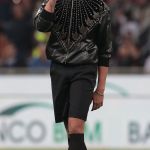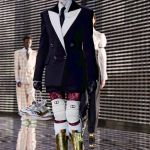 Alessandro Michele in the last collection had taken inspiration from the sports equipment, as in the case of knee pads and sneakers, inspired by volleyball. For shin guards, the connection is much less evident, halfway between sports equipment and a gladiator armor, but thanks to the look and the particular context, the inspiration had a completely different effect. The Gucci accessory, completely gold with the double G logo positioned at the top, is elongated, unlike the more modern models, which are always smaller and less cumbersome.
Another precious item that makes people talk but once again demonstrates Alessandro Michele's talent and ability to find inspiration from everything around him.