The Euro Social GVNG jersey for Guè Pequeno
A new captain for "The Official Rap Game Champions League"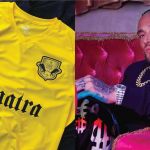 Euro Social GVNG raised the level, showing the jersey dedicated to one of the sacred monsters of the Italian rap scene and a member of BHMG: Guè Pequeno. If you don't know Euro Social GVNG, you should know that to dedicate football shirts to the best Italian artists isn't new. In the past, in fact, we talked about colored and personalized jerseys for Tedua, Ernia, Enzo Dong, Drefgold, Side, Rkomi and Izi, a competitive team that needed a captain to raise the level of the "The Official Rap Game Champions League".
On 21 February was announced the project with an Instagram post featuring the former Club Dogo member in a FIFA Ultimate Team card. Rating 93, just below the Cristiano Ronaldo and Messi.
The first big news is the change of sponsorship, PUMA replaces Nike, which featured in all the jerseys of the first 2 years of the brand. The logo is placed on the chest, top right, while on the left appears the crest, similar in design to that of Salzburg and Leipzig, with the bulls which in this case go to the outside of the shield. Completing the graphic is the stamp "GUE Milano", placed above three stars. At the center of the chest looms the Gothic font of Sinatra, the title of the album released last summer. On the right sleeve, the "Respect" patch, typical of Champions League' shirts, is replaced by a similar one in the colors and characters, in which is placed the brand name.
But what characterizes all the ESG jerseys is the color and for Gue, was chosen a bright yellow, more brilliant than the one used for the Drefgold's shirt.