10 most beautiful anthems of the Italian clubs
There are those of AS Roma and AC Milan, but also of less noble teams like Sassuolo and Vibonese
Hi, my name is Cecilia and I don't know anything about football. I'm the living stereotype of a woman who doesn't love sport, who has never gone to the stadium and who discovered the meaning of the "offside" only a short time ago. I'm the shame of the whole category of women who claim their legitimate right to take an active part in the sporting world, often and unjustly considered a male exclusivity. For heaven's sake, when Olympics tale place I'm in front of the TV to follow the largest number of competitions and during the World Championships I'm always charged to cheer Azzurri - and I suddenly expert in schemes, punishment and penalty kicks. From time to time I glance at the front pages of La Gazzetta dello Sport, but not before reading horoscope by Capitani.
This long premise just to tell you that today, surprise, I will talk about football. Even the story that has brought me to this unexpected decision is long and convoluted, but all you need to know is that I have many, many friends passionate about football and I'm victim of the charm of football fans. So, every time they start talking about how beautiful were the times of Baggio and Batistuta, that there are no longer the players of the past and what was the coolest uniform of Serie A in 1992, well, I can't not listen to them. And so, one winter night, in all that chitchat, some of my football-loving friends opened my eyes to the magical world of soccer team anthems - and I will never thank them enough.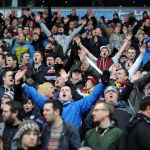 As the most incompetent football player, but a great lover of music, I could not go into this exciting universe of stadium chants, catchy refrains and catchy melodies - in short, a sort of summer hits, but more combative, sometimes ridiculous, and perfect for every season. And since beautiful things are always shared, here I am to talk with you.
Where to start? How to select the most deserving anthems? What factors to consider? Difficult to organize scientifically and efficiently such a wide field of investigation as that of football anthems, that's why the main criteria that have guided my research have been the case and the heart. Supported by the precious help of an expert in the field, I selected some of the stadium anthems that, according to my humble opinion, you should all know - or listen at least once in your life.
1. Napoli – "Napoli" by Nino D'Angelo
We all agree that "Napul è" by Pino Daniele is one of the most beautiful songs ever written in Italy. However, if we talk about anthems of the SSC Napoli, most of the fans will not hesitate to sing "Napoli" of another great master of the Neapolitan tradition: Nino D'Angelo. The song was written in 1988 and contains some of the most typical elements of Neapolitan culture: the sea, the blue sky as its flag, the beauty of the city and blind love for the team - and a crazy chorus that you can not singing loudly.
2. Sassuolo – "Neroverdi" by Nek
It could only be Nek, Sassuolo doc, to write and interpret the official anthem of the U.S. Sassuolo - who for the occasion humbly signs Filippo Neviani. There's nothing to add, it's a perfect rock song: scratchy guitars, drums beat on the tom and the singer's unmistakable voice, which lets itself go to captivating choirs.
3. Chievo Verona – "ChievoVerona, Un Mondo in Giallo e Blu" by Ivana Spagna
This news will perhaps surprise all those like me who do not chew the world of football. Yes, the singer Ivana Spagna, in 2001, wrote and interpreted the anthem of A.C. ChievoVerona, football association of his hometown. What can we say, this is a song in perfect Spagna style, in which its thick voice lends itself to the chorus "CHIEVO! CHIEVO! VERONA! "Giving life to an anthem that has nothing to envy to the singer's discography. Attention, also worthy of note the current anthem of the team, "Vola Con Noi", by the pop duo Sonohra.
4. Pescara – "Evviva Pescara" by Luciano Brancone
As I mentioned before, the choice of these anthems is based on a careful selection dictated by chance and heart, which translated means that "they are the ones I love the most". For this reason I want to mention the Delfino Pescara 1936: if its symbol had already conquered me, its anthem is a Spanish ballad that recalls the best musical tradition of the Romagna dance halls.
5. Bologna – "Le Tue Ali Bologna" by Carboni, Mingardi, Morandi e Dalla
Recorded in 1987, the piece written and interpreted by the Bolognese quartet was adopted as an official anthem of Bologna F.C. 1909 immediately after its publication in 1988, and used for almost ten years. An exquisitely pop anthem that combines three of the most beloved voices of Italian song culture. PS: do not try to find a better version of this online, so the anthem was recorded.
6. Cittadella – "Cittadella Rap" by Tony D
The anthem of AS Cittadella is perhaps one of the most beautiful songs that you will hear today: the verses rapped together with a melodic chorus - that winks at "Serenata Rap" - make the song a small pearl of Italian music, that kind of sound that reminds us the province that does not stop dreaming.
7. Roma – "Roma (Non Si Discute, Si Ama)" by Antonello Venditti
Rome and Antonello Venditti, there is nothing else to add. "Grazie Roma", by the Antonello Nazionale, is definitely the most famous song linked to AS Roma, but also the actual anthem is not far behind. "Roma (Non Si Discute, Si Ama)", better known as "Roooma Roooma Rooomaaa", was published in 1975 and adopted as team anthem at the behest of the President Dino Viola. I take this opportunity to mention also "Campo Testaccio", the first hymn of AS Roma, written by Toto Castellucci in 1931 - certainly more genuine and "romanaccia" than Venditti's song.
8. S.P.A.L. – "Inno alla Spal!" by Alfio Finetti
That of the S.P.A.L., or better Polisportiva Society Ars et Labor, based in the city of Ferrara, is a true doozy among the anthems, since it was written by the singer-songwriter Alfio Finetti in Ferrara dialect.
9. Vibonese – "Vibonese Alé" by Rino Putrino
The anthem of the U.S. Vibonese is the perfect mix between the animation in a tourist village, "Tropicana" by Gruppo Italiano and a ballad worthy of Raoul Casadei. In short: your new favorite song.
10. Milan – "Mi-Mi La-Lan" di Enzo Jannacci
Surely all of you know the iconic anthem of the A.C. Milan written by Tony Renis with the participation of Silvio Berlusconi - "Miiilan, Miiilan, sooolo con teee (Milan!)". But, perhaps, few are aware of the hymn written by Enzo Jannacci, a great Rossonero fan, for the 1984-85 season - in which all the contagious energy of the character emerges.