5 GIFs to describe Real Madrid-Ajax
The 4-1 of the Dutch guys against the merengues, the perfect night that few people expected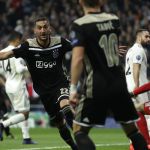 As already happened during the first leg, Ajax-Real Madrid seemed a match of another era, a concentration of emotions and superbly plays as it has rarely happened to see during a recent series of the first UCL knockout rounds. Thanks to Ajax, which on both occasions has expressed a football style at the same time thoughtful and unscrupulous with exciting consequences, delighting not only the Dutch fans but especially football lovers from all over Europe. At the Amsterdam performance, when in the final minutes arrived a defeat despite the many wasted occasions, the lancers flew to Madrid with only 6% chance to pass the round, and played a great match, from real underdogs: maximum attention in defense risking little or nothing (even if Real hit two times the post), but above all great skills in the opposing half of the field, without any reverential fear towards the current champions, sometimes unrecognizable. And so the scenario of the Bernabeu (where the Real suffered the fourth consecutive defeat, it did not happen since 2004) did nothing but stimulate even more the talent of the offensive interpreters such as Tadic, de Jong and Ziyech, who showed flashes of absolute class under the eyes of supporters from all over the world. Perhaps someone had underestimated the Dutch too: one out of all, Sergio Ramos, guilty of taking voluntarily the yellow card to skip the return leg, believing it was a walk for his team.
And since we are really sorry if you lost the game last night, we decided to sum up the best moments of the historic Ajax boys evening in 5 Gif:
# 1-0 by David Neres
Rarely we saw a total performance like that of Dusan Tadic, dominant for all 90 minutes: the play with 'ruleta' that preceded the assist for David Neres is to be seen and reviewed.
# Poor Carvajal
That was the right night for David Neres was already understood a few minutes before when he had skipped Dani Carvajal so blatantly with a footwork as a freestyler.
# de Jong a.k.a. the boss of the pitch
Oh yes, because the future Barcelona midfielder has overwhelmed the duel with Modric & his teammates, drawing unimaginable geometries, defending and setting with a unique maturity for a 21 year old guy.
# Tadic and VAR
Not only the assist for the Serbian player: has put the hand (ops...the foot) in the goal of 0-3 with a left-footed wonderful kick, after a few moments of apprehension for the decision of the VAR: was the ball recovered from Mazraoui out or not?
# Schøne's cachet
A few minutes after the goal by Asensio that could have worried the Dutch guys, was the expert Danish midfielder to put the exclamation point close to the Ajax triumph, with a mocking free-kick: who knows if he really wanted to shot.