Icardi's family now have a Depop profile
Wanda and Mauro are selling their clothes and the proceeds will go to charity
Under the management of Wanda Nara, both in football and outside the pitch, Icardi's family is turning into a real all-around brand, following the example of Kardashian-West or Ferragnez. The latest curiosity was the opening of a Depop profile, in which Mauro, Wanda, his sons Isabella, Francesca, Valentino, Constantino and Benedicto sell clothes, shoes and accessories that they no longer use.
@icardifamily is a classic Depop profile, a site for social shopping founded in 2011 in Italy, which allows users to buy and sell their items as if it were an online storefront. Each item has a personalized tab with price, information on dimensions and conditions and in which you can ask questions to the seller. The Argentine family profile was opened about a month ago and currently has 2100 followers. The application has attracted celebrities to open stores, with some donating proceeds to charitable causes. The same goal of the Icardi's as well as the bio.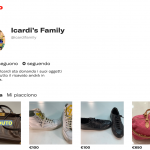 The initiative will make the couple's super fans happy, who will be able to buy authentic clothes worn, to satisfy the fetishism, justified by good intentions. The products on sale defy bad taste in many cases, especially shoes, but if you are looking for a handbag for you or your girlfriend, Wanda sells a large number, especially Philipp Plein and Gucci, but also a Celine and Prada. If you are Inter fans or Wanda fans, follow the @icardifamily "store" will make you feel a little closer to the neroazzurro captain's family.