Donte DiVincenzo aka 'The Big Ragù'
The MOP of the Final Four 2018 could play with the Italian national team
191 cm, red hair and a fantastic nickname, "The Big Ragù".
Donte DiVincenzo, the rookie and the point guard of the Milwaukee Bucks and MOP (Most Outstanding Player) of the Final Four 2018 won with Villanova Wildcats, could play with the Italian national team. The guy was born in Newark, Delaware, by John F. and Kathie DiVincenzo, a family of clear Italian origins and so Donte has all the necessary qualifications to apply for an Italian passport.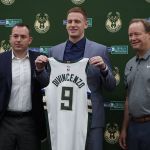 When I saw him dominate the Final Four in April, I was speechless. There was this red guy that apparently without a physicality of level, explained it to everyone, teammates and adversaries. The most classic of able-bodied people who go to heaven, but do not go there by chance, they go there because they have more will and desire to win than anyone else.
Then the character deserves absolute attention. Declared eligible for the 2018 draft and chosen with the 17th overall choice by the Milwaukee Bucks, Donte just arrived in Wisconsin declared: "I can not wait to let Giannīs taste the pasta that my mother does at home", more during the season Donte went out for a beer with his new teammate at the Bucks, DJ Wilson. Well, the guys were checking how much money they had on the bill to figure out who would have to pay for a drink, the image posted by Dj in the stories of Instagram is worth a thousand words. DiVincenzo had a total of $ 3.71 on his account.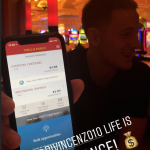 Fortunately in the next two seasons with the Milwaukee Bucks Donte will earn almost 6 million dollars, so for the finances it's all OK but one of his interview with Corriere dello Sport has shaking the tree in Italy.
I follow Italy with interest. I saw the images of the national matches on the phone, it's really a nice group and talented. We are working on the passport, my father has been working on it for a few months, next summer we will go to Italy to sign the last documents and obtain citizenship. It is something that makes us all proud. It will be my first time in Italy. I think it will be a fantastic experience.
Class 1997 could be a "good cop" for our national team that is one step away from the qualification for the next World Championship in China that will start on 31st August 2019.