The Golden State Warriors threatened to contract meningitis
In March of last year the NBA champion team experienced days of fear
The Golden State Warriors reportedly dealt with a team-wide meningitis scare during March of last season, according to Sam Amick of The Athletic.
An outside vendor who handled the team's food on a daily basis contracted a contagious form of the disease, then survived a life-threatening challenge before eventually returning to work with the team.
Immediately after the infection was discovered by the provider, precautions were taken, the entire team underwent vaccinations while the gym and the dining room were closed to be sanitized. Doctors were reportedly brought in to address the team, while general manager Bob Myers and coach Steve Kerr tried to limit the concerns.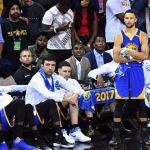 Of course in the beginning, everyone was freaked out but after hearing from professionals, (when) doctors talked to us and the team did all the necessary (things), they responded really well, and right away.
Former Warriors and current Detroit Pistons center Zaza Pachulia said. The concern reportedly peaked between games on March 11 and 14, which coincided with the team's toughest stretch on the court last season. From March 9-29, the Warriors lost seven of ten games. Former Warriors forward David West said:
It was the entire team (who was affected). It was crazy. It was the heart of the season. It was something that, again, it showed the strength of the organization (that they got through it to win the title).